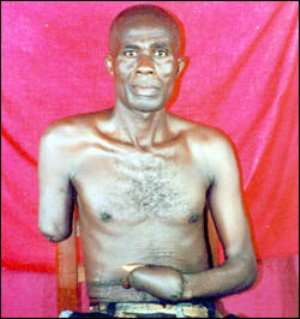 Samuel Emmanuel Opare A 54-YEAR-OLD Ghanaian said to have been illegally maltreated by police in Egypt sometime in 2001, denied his rightful compensation and finally deported has made a passionate appeal to the Government of Ghana to assist him fight for his rights.
Narrating his ordeal to DAILY GUIDE in an interview, the returnee, Samuel Emmanuel Opare said he was illegally arrested, brutalised and eventually deported to Ghana without any justification.
He said what made his case worse was that he was flown back into the country immediately a court of law in Cairo had ruled in his favour to receive compensation from his employers.
Mr. Opare lamented that although he could have easily fought for the compensation, the illegal deportation by the Cairo police made him helpless.
He indicated that the issue could best be addressed when he gets the support of government.
Mr. Opare also made a passionate appeal to President Atta Mills to use his good offices to assist him get adequate compensation from Egyptian authorities in Cairo by directing the Foreign Affairs Ministry to take up the case.
He as well called for support from philanthropists to assist him in pursuing the case against the Egyptian police so as to prevent him from becoming a liability to the nation.
Mr. Opare, who is now living a wretched life in Kumasi, told the paper that he was hopeful that under the new administration of President Mills his appeal would be given the necessary attention.
Recounting his ordeal in Egypt, he said he was involved in an industrial accident which led to the amputation of his right arm and the left hand being disfigured.
According to him, instead of being compensated by his employers, he was arrested, brutalised and eventually deported to Ghana, at a time a court of law had ruled in his favour for compensation to be paid him by his employers.
He said while he was pursuing the compensation claims, Cairo police officials wrongfully arrested and detained him in police custody for over a month for not possessing a resident permit, even though he had a valid resident permit.
According to Opare, while arguing with the police that he had a valid resident permit, he saw nothing again until he gained consciousness one morning in a hospital at Cairo, under security.
Mr. Opare lamented that on gaining consciousness he was told by officials of the Ghana Embassy in Cairo that he was involved in an accident, resulting in the loss of his three left fingers.
A police report of 2001, signed by Captain Ahmed Shawki of the Cairo Security Department, which is in DAILY GUIDE' s custody, indicated that Opare was rushed to the Matareya Educational Hospital on August 21, 2001, with a torn left hand, which little finger, ring finger and middle finger were severed.
He was also suspected to have cerebral concussion.
The report indicated that Corporal Gomeah Mohammed Mostafa of Air Shams Police station, who was escorting Opare to the immigration office because he did not have a resident permit, claimed he had handcuffed Opare, since his right hand had already been amputated.
The police officer reported that at the underground train station, Opare slipped and fell between the platform and the railway lines and that he was lucky to have been saved by the police officer, who pulled him from the path of an oncoming train but not after the train had severed his three fingers.
Opare has doubted the police report which he described as strange because he was not aware of any such incident.
All he remembers is that he regained consciousness in hospital.
He indicated that there would have been no chance of survival if indeed he had been run over by an underground train, and described the police report as a fabricated one and an attempt to kill him in order to deny him the compensation.
Opare is currently seeking legal aid to pursue the case at the International Court of Justice at The Hague, against the Egyptian police, for alleged ruthless and inhuman treatment meted out to him while in Egypt.
From Stella Danso, Kumasi