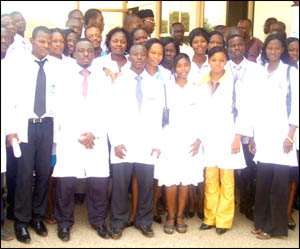 The newly inducted student The University for Development Studies (UDS) Medical School has inducted its maiden batch of students to begin their three-year clinical training at the Tamale Teaching Hospital.  
Out of the 31 students inducted, 14 are females while the rest are males. 
At a short ceremony at the Tamale Campus of the UDS, the Acting Vice Chancellor of UDS, Prof. S. Nokoe bemoaned the low number of trained doctors in the country particularly in the northern sector, adding that it was in light of this that the UDS was gradually gaining its independence of sister institutions to enable it train more doctors to augment the shortfall.
He disclosed that in the past, clinical students were mandated to undergo studies at KNUST and the University of Ghana Medical Schools due to the unavailability of facilities at the university, but was impressed this had become a thing of the past.
Prof Nokoe urged the students not to underestimate the opportunities and challenges they might encounter in the course of their studies, and underscored the need for them to ensure that the future of the medical programme was not lost on them.
He reminded them that it was their responsibility to defend the integrity of the school and endeavor to keep out of political talk, urging them to use appropriate channels in addressing their concerns.
He warned that the rush to the media with grievances was likely to thwart the peace and tranquility enjoyed in the school.  
On his part, the Chairman of the Governing Board of the Medical School, Professor Mumuni Dakubo said the ability of the school to train its clinical students in Tamale was a source of relief to the management of the university, noting the expensive cost incurred previously in training them in sister universities.
He reiterated the need for the students to be steadfast at all times and use the facilities at their disposal with care.  
He commended the KNUST and University of Ghana for their cooperation over the years, and appealed to them to continue to lend support to the school when the need arises.  
The government and various stakeholders were also called upon to help address the issues of infrastructure, equipment and personnel inhibiting the progress of the school.
Later in an interaction with DAILY GUIDE , some of the students were grateful that they would complete their studies in one region.  
According to most of them, they heaved a sigh of relief when they were told of the new system, as traveling to other universities demanded an additional cost and also increased their years of stay in the school.  
They appealed to the school authorities to ensure that modern equipment was made available to them for use as is the case in other universities.
From Stephen Zoure, Tamale