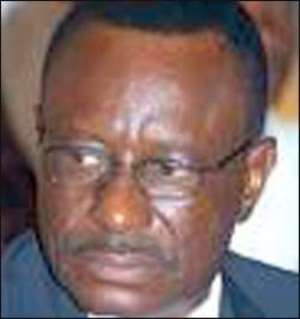 AMA Boss, Adjire Blankson The Accra Metropolitan Assembly (AMA) may be taken off the life support currently sustaining it as an Accra Fast Track High court orders the auction of a number of its landed and vehicular properties.
DAILY GUIDE can say that all things being equal, the historic action could be effected by tomorrow, 10th February, 2009, when Eddie Annan of Masai Developers and a kingpin of the National Democratic Congress (NDC) moves the court for the auction of AMA properties to offset judgment debts.
Eddie Annan is being represented by Tony Lithur of Lithur Brew & Co.
Mr Lithur is asking the court to fix reserved prices for the properties to enable the auctioneer gavel to fall on the affected properties which have been attached by the court.
The assembly had lost a case against City and Country Waste Limited, an Accra-based waste disposal company, as a result of which the Accra Fast Track High Court is at the verge of ordering the sale of its five major landed properties, including offices plus two pick-up trucks to offset a debt of GH¢13,366,053.99 it owed the company.
According to documents available to DAILY GUIDE, five bungalow properties, all situated at 7th Avenue Close, Ridge would be sold at the total cost of GH¢2,771,800., while the pick-ups would go for GH¢41,500.
A breakdown of the forced values of the five bungalows, as estimated by Del Consult Limited is GH¢345,400; GH¢665,600; GH¢584,800; GH¢643,200 and GH¢532, 800.
The opinion certification, dated 17th November, 2008 was signed by Ephraim Delali Dzobo, Managing Partner of the valuing consulting firm.
In the case of the vehicles, a valuation done by Inter-City Coaches Limited and signed by Edward Butungu, managing director, states that a Toyota Hilux, with registration number GS 4945 Y would be sold at GH¢29,000.00, while it also valued a Tata Telcoline with registration number GE 6346 X at GH¢12,500.00.
The request for the evaluation of the above AMA properties was directed by the registrar of the Judicial Service in relation to suit number FTC 17/2002, in which judgment was given in favour of the plaintiff, City and Country and Waste Limited on 9th June, 2004.
By 19th November, 2008 the portion of the debt the AMA owed the company plus interest accrued was GH¢14,970,355.38.
To date, AMA had only managed to offset only GH¢1,538,595.07, leaving an outstanding debt of GH¢13,366,053.99.
By Bennett Akuaku