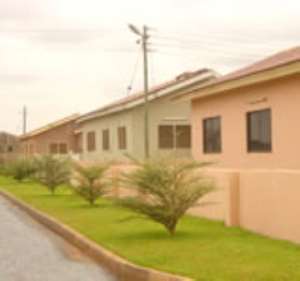 Seven hundred and nineteen out of about 3,000 housing units which are yet to be completed under the government's Affordable Housing Scheme at Borteyman and Kpone in the Greater Accra Region have already been allocated to persons believed to be well connected to the immediate past government.
"Information available to the Dai!y Graphic indicates a massive scramble for the property by leading functionaries, members and associates of the outgoing New Patriotic Party (NPP) government even before the first unit is ready for habitation.
The beneficiaries range from people in the offices of former President J.A. Kufuor and Vice-President Aliu Maharna through Ministers of State and Members of Parliament to domestic associates and serial callers.
According to the information, the Office of the former President had been allocated 51 flats, while the Office of the former Vice President had 19 flats, as part of the 719 flats directly allocated by Messrs Hackman Owusu-Agyeman and Boniface Abubakar Siddique, former Ministers of Water Resources, Works and Housing.
Other ministers who featured in the property sharing included Mr Stephen Asamoah-Boateng, a former Minister of Information and National Orientation, who secured flats for Zuleika Lorwia, Victoria Boakng Sarpong, Rex Obeman, among others; Professor Christopher Ameyaw-Akumfi, former Rail ways and Harbours Minister, who secured flats for Mr Francis Quaye, Mr Kofi Korsah and' Mr Kiakah, all said to be personal acquaintances.
Mr S.K. Boafo, the Chieftaincy Minister in the NPP government was also cited as having used his political clout to secure flats for a number of people, including David Kwabena Adade and Kofi Poku.
Mr S. Owusu Agyei, a former Minister of Public Sector Reforms, also reportedly secured flats for Kojo O Agyei, Elsie Panyin Ansah and Jeff Amoa Brown.
Professor Dominic K. Fobih also featured on the list for Abena Akobeng, Afua Pomaa, Yaw Tandoh and Kweku Kuntin, all of telephone number 0244310954.
Madam Gladys Asmah, a former Minister of Fisheries, secured flats for David Aidoo, Vincent Yaw Kusi and Elizabeth Donkoh, who all used a common mobile phone number 0208299670.
Mr Charles Binipon Bintim, a former Minister of Local Government secured for himself flats numbered C8/ 1 and C4/1 at Borteyrnan-Nungua.
Nii Adu Daku Mante, a former Member of Parliament Korley-Klottey, got himself flats C8/3 and C4/3 at Borteyman-Nungua, while Mr Abanga Abdulai, the current MP for Bawku Central on the ticket of the NPP, got for himself flats C8/2 and C4/2 at Borteyman-Nungua.
Mr B. K. Aryeh, the MP for Upper Denkyira West and Mr Oppey Abbey, the MP for Awutu Senya, were also listed as direct beneficiaries of the flats.
A number of people including Nana Bema Kufuor, Nana Buakye Kufuor, Akwasi Michael Nuako, Robert'Odarno, Hajia Aisha, all of P. O. Box 235, Airport West, who are reported as being "politically well connected" to the past government, also benefited from the allocation.
Messrs Joshua Yahaya Kwota and Ibrahim H. Baryeh, described as serial callers and propagandists for the NPP, also benefited from the transaction.
According to the• source, GH¢71.5 million, comprising GH¢40 million of HIPC funds and GH¢31.5 million of Social Security and National Insurance Trust (SSNIT) money had so far been sunk into the first phase of the project, with no single flat completed yet.
The Kufuor government, in 2005, unveiled the Affordable Housing Scheme to provide 100,000 housing units at affordable prices to lower and middle-income civil and public servants.
Areas earmarked for the project included Borteyman-Nungua and Kpone in the Greater Accra Region, Ayigya dn Asokore Mampong in the Ashnati Region, Koforidua in the Eastern Region and Tamale in the Northern Region.
This being the first phase, the ministry is expected to build 4,994 housing units under the scheme. The Water Resources, Works, and Housing Ministry carried out bulk purchases of building materials which it supplied to' contractors and the cost deduced from the contract sums awarded.
The one-and two-bedroom flats, when completed, were to be handed over to art independent allocation committee to be allocated to junior and middle level civil and public servants.
Beneficiaries were to deposit between GH¢20, OO0 and GH¢25, OOO for one bedroom and two bedroom f1at, respectively, and the rest of the cost spread over 15 years for payment.
According to sources close to the project, the flats were at various stages of construction, ranging from foundation to near completion levels. A number of contractors, the source said had abandoned their jobs at Borteyman and Kpone, in particular, with reported as not showing up since last year.