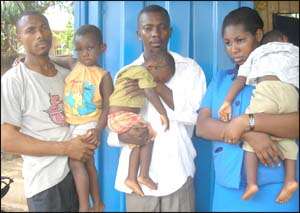 Middle: Pastor Kellson and wife A 37-YEAR old pastor and founder of the Living Covenant Fellowship was nearly lynched on suspicion of child theft at Sowutuom in Accra on Thursday.
Jonathan Paul Kellson, who narrowly escaped death, reportedly run out of fuel whilst transporting his three children to their grandmother's residence at Sowutum where she would dress them up for school.
According to the Inspector in charge at the Sowutuom Police Post, Mr. Emmanuel Kobina Essieduh, when the pastor realised that his car had run out of petrol, he approached a trader to lend him some money to fill his tank since he had only dollar notes on him but the woman declined.
Pastor Kellson therefore asked the woman to keep watch over the children for him whilst he rushed to take some money for the fuel.
Another woman standing by assumed that the pastor might have gone to steal the children.
She then started sobbing and shouting, drawing a crowd to the scene, who started heckling and beating the man.
An eyewitness, Vincent Adio, told DAILY GUIDE that no amount of explanation by the pastor could stop the mob from beating him.
He indicated that it was when he threatened he would pinpoint some people should the man die that fear gripped some of them and they stopped beating the pastor, even so he was branded as an accomplice of the pastor.
He continued that he then appealed to another man to follow him with his car whilst they drove the pastor's car and the children to the police post.
Kellson was taken to the police only to be identified as a pastor and founder of the Living Covenant Fellowship located within the vicinity.
Mr. Adio used the opportunity to appeal to the general public to report all suspects to the police in order to avoid spilling innocent blood.
He called also on the media especially the radio stations to verify information before airing such unsubstantiated allegations. He expressed regret that the pastor was described as a ritualist on one radio station. Mr. Adio therefore called on the media not to be in haste to break news only to realise it was untruth, since making amends becomes quite difficult especially when the character of personalities is involved.
When DAILY GUIDE got to the police post, the three children - Anjemel Okyere Kellson, 4, and a set of twins, Jude and Juda Pentsil Kellson - were seen around their grandma whilst their mum Sara Kellson who is a teacher at the King Jesus School at Awoshie had gone to get their birth certificates from their New Ofankor residence as well as their weighing cards.
The police have so far arrested one suspect who allegedly pelted the windscreen of Pastor Kellson's car and is being kept in custody for interrogation.
By Rocklyn Antonio