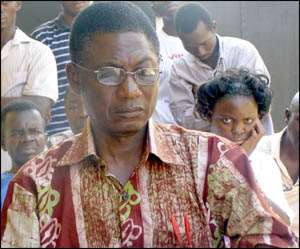 Mr Obuobi addressing the press Some agitated members of the New Patriotic Party (NPP) in the Abuakwa North constituency of the Eastern region have called for the unconditional and immediate resignation of the entire constituency executive members for their alleged 'destructive' campaign against the party's parliamentary candidate in the December 7 general elections.
This action of the executive members, they claimed, greatly affected the general fortunes of the party in the constituency.
They also accused the executive members of deliberately working to 'erode' the gains of the party because their preferred candidate, Mr J.B. Dankwa Adu who was the incumbent NPP MP, lost in the party's primary.
The agitated members made the call at a press conference on Wednesday at Osiem where troubled members from Kukurantumi, New Tafo, Old Tafo, Anyinaasi, Boso Odumase and Osiem converged for the press conference.
The spokesperson for the group, Mr Emmanuel Obuobi said they received authentic information from some National Democratic Congress (NDC) members that the NPP executive members backed by Mr J.B. Danquah allegedly supported the campaign of the NDC parliamentary candidate which eventually led to the massive electoral gains of the NDC in the constituency.
"The NDC in 2004 had a little over 4,000 votes while our party had over 18,000 votes but in 2008, NDC had 9,715 votes while our party's votes dropped to 16,000," he said.
He pointed out that the 35 polling station chairmen who voted against the former MP were completely sidelined in the activities of the party and the antagonistic posture of the executive members created divisions in the party.
"If you are not in favour of the former MP, then you are not seen as a party member," he indicated, adding that the constituency executive members were religiously and openly supporting the former MP which was against section 12 of the party's rules and regulations.
"During the run-off, the executives told the new MP, Prof Amoako that they were solely in charge of Nana's campaign and so they completely sidelined him and refused to allocate some of the money meant for the campaign to him so he had no choice than to use his own money and fall on his previous campaign team and some students to help with the house-to-house campaign for Nana," the spokesperson said.
The agitated members therefore sounded a caution that if the executive members continued to stay in office they would organise series of demonstrations against them.
"We don't want the current executives and we are ready to fight for the good of the party," they warned.