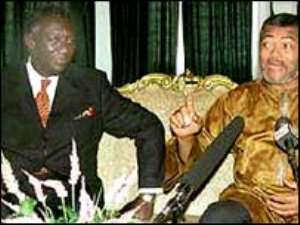 IN ANOTHER DEVELOPMENT, Politician admits : " I won't die for Tsastu Tsikata !!!"
The fall from Grace to Grass that former President John Agyekum Kufuor is currently facing could be the Antoa Shrine Deity curse invoked on him by a Politician whom he, (Kufuor) once persecuted .
Charismatic Politician, "Osagyefo Dr" Kwame Mayor, whose fanatic followers stretching around the World have now call him ( KWAME PRESIDENTE' ) - has hinted that sometimes, he feels like invoking the fearful Antoa Shrine Deity --- Antoa Nsuo Nyamaa on former Presidents John Agyekum Kufuor and Jerry John Rawlings.
The Politician [still] accuses former President John Agyekum Kuffuor for accepting a position during the dreadful PNDC days --- (after the Brave Okatakyie Akwasi Amankwa Afrifa and the Beloved Rear Joy Amedume and the Gallant General Odartey Wellington to mention but a few, had been unfairly executed by Major (Retired) Boakye Djan-Flight Lieutenant (Retired) Rawlings' AFRC Military regime.
The "People's Mayor" reminded the Nation that former President John Agyekum Kufuor's government exploited his powerful ideas - yet, he (Kufuor) was extremely un-grateful, arrogant, extraordinary unfair and wicked towards him and that the fearful Antoa Nsuo Nyamaa does [NOT] appreciate such Gigantic Injustice and unfairness.
"However, the Mysterious River Oda which flows in the Farming and Kente weaving Village of Bamang, near the well-known Kente Center of Bonwire in the Ashanti Region of Ghana has tremendous Healing Powers and is capable of Reversing Curses !!!. I have therefore, been asking myself : "Why should I invoke Antoa Shrine, Nana Nyamaa on former President John Agyekum Kufuor whereas the Sister of Antoa River, which is River Oda in nearby Bamang near Bonwire, is capable of healing all kinds of diseases and reversing all kinds of curses anyway ?", asked the Great Grandson of Asante Adonteng Puduo Royals from Bamang, whose very biological Ancestors bravery led Asante Wars against Colonialism and Imperialism perpetuated on African soil by "our White Brothers and Sisters from England !!!).
The Politician appealed to Tourists around the World to take a look at the fearful Antoa Shrine and Bamang's famed and powerful River Oda.
" As a devout Catholic, I have personally decided to [forgive] former President John Agyekum Kufuor and former Military Strongman, Jerry John Rawlings ", Kwame Presidente' said.
" I have also forgiven (Dis-Honorable) Stephen Asamoah-Boateng ("Asabe"), my former School Mate at Great Koss who turned brutal evil against me and was very arrogant, selfish, greedy and callous and acted like a "dog" for his Master Kufuor, whom he spied for in addition to his special duties as a "Special Minister of Terrorism" as he made several terrorists outbursts against peace-loving Ghanaians.
"Dis-Honorable Stephen Asamoah-Boateng "Asabe" and Dis-Honorable Kwadwo Mpiani would definately have been hanged by U.S. led Allied Forces --- (as Terrorists like Saddam Hussein's brother who was hanged in special circumstances until his head was severed from his neck) --- had they (Kufuor, Mpiani and Asabe dared to touch me during their time in office", said the Great Grandson of Asante Puduo War Generals who once fearlessly stood up against a few Political Terrorists in America who put him in an un-conscionable and un-American Political Trial of the Century but they (the Political Terrorists) were morally and ethically defeated - (Sincere thanks to former President Bill Clinton's White House which ordered the Justice department to investigate torture inflicted against the first Ghanaian-American to symbolically run for mayor of Los Angeles.
" Father forgive them", "Osagyefo Dr" Kwame Mayor pleaded to God Almighty on behalf of Kufuor and Rawlings and on behalf of the wicked ways of Dis-Honorable Stephen Asamoah-Boateng ("Asabe") and Dis-Honorable Kwadwo Mpiani.
"Asabe and Mpiani are lucky that Ghana is [not] under Rawlings-Boakye Djan's AFRC Military days anymore because he (Rawlings) would surely have put them before Firing Squad at Teshie Military range, since Rawlings specialized in that "field of study".
"As for former President Kufuor, he does not have the exemplary qualities of the bravery that the Brave Okatakyie Akwasi Amankwah Afrifa exhibited.
"Kufuor would die even before a bullet is fired. He is a coward and always will remain a coward for bringing shame upon the Asante Kingdom which is widely respected by the White Man for the virtues of Courage and (lack of) greediness.
Asked about Rawlings' so-called bravery, the Politician said he (Rawlings) is such a coward that he can not die like a man as Saddam chose to die.
"Rawlings would beg for mercy as those who spill blood always do in their last days", predicted the Politician.
With his Forgiveness Spirit, the "People's Mayor" asked the Nation to always remind themselves of his famous admonition :
"An Eye for an Eye will make all of us blind and a Tooth for a Tooth will make all of us Toothless", said the "Larger than Life" Politician cum Human Rights Activist in one of his numerous Political Sermons which have transformed him into a Super Star status.
[IN ANOTHER DEVELOPMENT] - Kwame Mayor, whose story on Ghanaweb.Com on July 6, 2008 captioned "Kwame Mayor to die for Tsastu Tsikata", has summersaulted !!! - and the Legendary Politician, dubbed "America's Mandela" now says that he won't serve jail term for Tsastu anymore - if he (Tsastu) loses his appeal in court.

"Tsastu is taking a big risk for rejecting former President John Agyekum Kufuor's pardon", warned the "People's Mayor" who still laments that the brave Okatakyie Akwasi Amankwa Afrifa and the beloved Rear Admiral Amedume, etc, did not have a chance like Tsastu to appeal against their verdicts, due to the fact that they were un-fairly tried in Kangaroo Courts.
The Politician referred to an International Case study whereby former U.S. President, Bill Clinton's Administration pardoned some Terrorists in the East Coast area - (on condition that they renounced violence), and surprisingly, some of the Terrorists rejected the Presidential Pardon and also, refused to renounce violence.
The said Terrorists are still rotting in Prison and the current United States Attorney General under President Barack Obama's administration was questioned during his Confirmation Hearing about the controversial pardon.
The former Ghanaian-American Los Angeles Mayoral Candidate - (turned 2004 and 2008 CPP Parliamentary Candidate for Nhyiaeso Constituency in Kumasi, Ashanti Region of Ghana) --- a former Precinct Captain and a [non-paid] volunteer for President Barack Obama's 2008 Campaign Team, who is absolutely and over-whelmingly qualified and is more likely and to serve as White House Under-Secretary for African Affairs or serve any White House appointment under President Barack Obama - [if] Ghana, under President John Evans Atta Mills does not tap his talents as former President John Agyekum Kufuor wickedly and un-wisely did --- appealed to the Justices who will rule on Tsastu's Appeal application to tamper Justice with Mercy, and called upon Tsastu Tsikata to publicly condemn the PNDC era Kangaroo Courts which Rawlings and Boakye Djan cowardly used to execute their victims.
It will be recalled that "Osagyefo Dr" Kwame Appiah Boateng, popularly known by Ghanaians around the World as Kwame Mayor - the first indigenous African to run for a higher public office in the history of United States of America - (since America's Independence from Great Britain in 1776), had wanted to surrender to Ghanaian Authorities as far back in 2008 to serve jail term on behalf of Mr. Tsastu Tsikata, but former President Kufuor's government did [not] allow his Good Samaritan effort on behalf of Tsastu.
"Osagyefo Dr" Kwame Mayor said in his 2008 Ghanaweb story : " I want to serve the jail term for Mr. Tsastu Tsikata on condition that he is immediately released from jail and instead, former Military Junta Leader, Jerry John Rawlings and Major (Retired) Boakye Djan are put in jail, (at least temporary, before being pardoned).
"If Tsastu is counting on me to serve jail term for him in case he is sent back to Nsawam Prison if his appeal fails, he must be dreaming", said the "America's Mandela" and Celebrated Human Rights Activist.
" Are there Conjugal Visits at Nsawam Prison where Spouses can visit their loved ones ?", the Mayor asked as he hinted that his American Girlfriend had warned him that she would never visit him at Nsawam Prison should he volunteer to serve jail term on behalf of anybody.
" My Persian Girlfriend whose parents live in Beverly Hills was more understanding though. She told me that she was willing to join me at Nsawam Prison in Ghana, should I decide to serve jail term for anybody for Humanitarian reasons.
My Ethiopian Girlfriend too was very understanding. She said I deserve a Noble Peace Prize for my determination to serve jail term for another person in my role as a Good Samaritan !!!.
" I don't understand why my American Girlfriend is the only Lady who said to me : "Hell No. You ain't gonna serve no jail term for nobody".
" Surely, I ain't gonna serve jail term for that dude, Tsastu, if he goes back to Nsawam Prison", the Politician said.
" Does Nsawam Prison in Ghana allow Conjugal Visits as a matter of Human Rights, at least for Political Prisoners, whereby their Spouses or Girlfriends can visit them" ?, the Politician asked out of curiosity, as he stared back to the days during apartheid South Africa when the Legendary Nelson Mandela spent about 28 years of his life in Prison and was not even allowed to touch his ex-wife, Ms. Winnie Mandela, one of the most gorgeous Women God ever created.
"I sure ain't gonna do no jail time for that dude, Tsastu Tsikata, after learning what happened to Nelson Mandela", said the Politician in his somewhat "American accent".