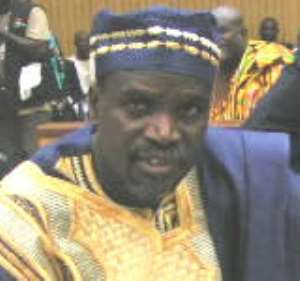 I am sitting at the edge of my bed. Things are happening behind closed doors all over the world. It is 6th February 2009; a day the world has come to accept as Bob Marley's Day.
On a day like this, I would play music all day, do interviews and if it fell on a Friday or Saturday organize a special tribute on my radio show to the man most people call brother Bob. Today is different. No radio shows, no interviews: Nothing. The only sound I can hear is the ticking of the clock and the muted sound of my laptop.

I spent last year's celebration of Bob Marley's birthday in Jamaica where I went to meet his family and covered interviews for Ghana Television. Today, I don't even feel for music. I feel my mind is almost numb. I've got six books I have borrowed from the Library including the autobiography of Frank Bruno the boxer, a book called the Future of Modern Policing and one called "I fought the law" by Dan Kieran plus an assignment to complete from school and my wife to call who won't be too pleased to hear I put her on hold just to complete a feature.

I have just returned from work and so much is happening in Ghana I just can't help but start typing away. Yet, I feel jumpy, but not the kind of jumpy Rastafarians feel when they smoke marijuana. I'm anxious and freezing my Rastafarian blood in the UK. Did you hear Britain is being hit by the worse snow fall in 18 years? The snow fall is derailing all forms of transport and causing serious disruption to school and work schedules. This comes at the heels of crumbling British economy.
Britain and the US are spending billions of dollars on a war that should not have started at all. It is the useless war in Iraq that has culminated in the near collapse of the British economy. Currently the UK government is cutting down on promised expansions in schools because there is a recession or rather "a depression" as Gordon Brown sheepishly mentioned in parliament recently.
It is people like ex - President Bush, Mr. Blair and the "one eyed man" Gordon Brown who presided over the economy whilst greedy US and British bankers were gobbling every excess cash that came their way.
My GOD! I am not a fan of Gordon Brown, but I felt outraged when I heard in the news how Jeremy Clarkson, a seasoned BBC journalist described his Prime Minister as "one eyed Scottish idiot." I fell in love with Jeremy's interviewing skills when he made John Bolton, former US envoy to the UN look like a buffoon in an interview about the war in Iraq. Jeremy reminds me of another "don't give me crap" journalist - Ms Elizabeth Ohene, formerly of the BBC and ex-minister of state under John Kufour. I miss her. I have met Jeremy Clarkson just once in Glasgow. He was in town shooting material for broadcast. He showed a lot of good manners and respect towards me and was quite humorous. I couldn't't believe what could provoke such a fine broadcaster into making unguarded remarks about his Prime Minister and persons with disability?
His coments are very disrespectful to Mr. Brown, insulting the very hospitable Scottish people and grossly insensitive to people with disability. It shows how little respect Jeremy has for persons with disability. Gordon Brown may not be a very popular PM, but Jeremy Clarkson's remarks are just way out of order.
But neither Jeremy nor the British recession is what has got me feeling restive. I am edgy because of political development in Ghana. First it was Dr. Spio Gabrah of the ruling NDC who shot himself in the foot, then came Moses Asaga, Member of Parliament for Nabdam, former deputy finance minister and the current President's nominee for the position of Minister for Water Resources and Works and Housing. Moses, a rather soft spoken "wife beater" shot himself in the foot when he approved the disbursement of funds for the controversial ex-gratia award for former president Kufour , and other top political office holders. I would discuss Dr. Spio's interview in my next article.
For now, I am still struggling to come to terms with why Asaga would take such an irrational decision without consultations with his colleagues on the transitional team and informing the presidency?
The news is that some people have already withdrawn their share of the freebie. What Moses has done is like scoring an own goal in a quarter or semi final football match. The figures approved in the recent recommendations for ex-gratia reward for certain key Ghanaian politicians and particularly John Kufour is immoral. The send-off package for Kufour generated a lot of debate and flak from the public including members of the former president's party, who until the exit of Kufour from office never found fault with his actions. So why would Moses reportedly approve of such a scam in spite of the disapproval from various quarters?
President Mills' judgment was terse and swift. No nonsense and no clowning around the new presidency. This is the kind of decisiveness we lack in our politics in Africa. Many African leaders including our own John Kufour would lay claim to fighting corruption and ineptitude and virtually buckle when confronted with evidence. Our politicians would shore up and obstruct justice when it is their friends who are suspected of corruption.
A good friend of mine in the NDC has suggested that Moses should be prosecuted because his reportedly blanket approval of funds for John Kufour and others could be tested in court as willfully causing financial loss to the state. Is this president Mills' baptism of fire? Are there grounds and good reason enough to prosecute Moses? It would be most interesting to see how things pan out but I feel sorry for Moses even if the Attorney General doesn't feel Asaga's actions indeed constituted financial loss to the state. It is a sad moment for Asaga and the people of Nabdam. This could go in history as the worse "own goal" of all time. He has brought unbearable pain to his fans, family and friends, the NDC and the presidency.
Did you hear how some of our women were gearing up to protest his nomination for regularly beating his wife? I guess they can put their placards somewhere. He had done their job for them.
I also feel sorry for Mrs Asaga who might get some kicks and licks for her husband's bad luck as she's most likely to get blamed for it and a good beating perhaps. My advice would be for Mrs. Asaga to take the children on a vacation. Just stay clear of his way before he turns you into a punch bag again.
Honorable Moses Asaga has worked and fought very hard for the NDC. He was one of the strong voices of the party especially during their days in opposition. It was just good time to enjoy the fruits of his labour, but he screwed it up BIG TIME. Sometimes it is hard for parents to punish their children, but certain recklessness by one's child or children cannot go unpunished. President Mills loves Asaga. The people of Nabdam should not get this wrong. Asaga is one of the blue eyed boys of President Mills. What Asaga must note is that in politics the penalty for mistakes can be ruthless and he has simply paid a price. This is a warning to the rest of the public office holders under president Mills. Beware!

Credit: RAS MUBARAK, UK. [[email protected]]