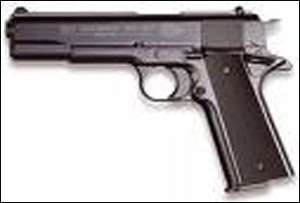 Pistol A travel agent at Chorkor has been apprehended and put before an Accra Circuit Court for allegedly selling pistols illegally.   
Patrick Mensah, believed to be selling the pistols to persons including criminals has pleaded not guilty to possessing firearms without lawful authority.
He was grabbed with three of the pistols when he attempted selling them to an informer in the presence of police officers dressed in mufti.
The trial Judge, Mrs. Ivy Heward-Mills ordered that he should be remanded in police custody for further investigations to be conducted into the matter while the case was adjourned to February 12, 2009.
The prosecutor, Chief Inspector J.K. Anim told the court that the accused person is a travel agent at Chorkor who had been secretly dealing in pistols.
According to him on January 23, 2009 the Dansoman Police had a tip-off that the accused person was selling weapons to persons around the area so the crime officer led a team of police men including the informant in the case to arrest the travel agent.
He said the policemen who were dressed in mufti went to a drinking spot with the informant, who called Mensah to meet him at the spot so he could buy some of the arms.
The prosecutor noted that the accused person and the informant struck a deal to have three weapons delivered at the bar so the travel agent arrived with the pistols but was nabbed by the policemen just as he was about to hand them over to the informant.
Mr. Anim said at the time of his arrest Mensah said he was not the owner of the items and that they were given to him by a certain Theophilus Lamptey who resides at Santa Maria, to be sold for him.
He added that when asked to lead the police to locate the said Lamptey he could not do so and was arraigned after investigations.
Meanwhile the police have intensified their search for Lamptey.
By Fidelia Achama