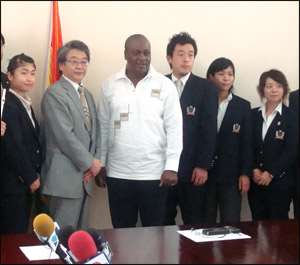 Vice President and Japanese Ambassador VICE PRESIDENT John Dramani Mahama has lauded members of the Japan Overseas Cooperation Volunteers (JOCV) and Senior Overseas Volunteers (SV) in Ghana for their contributions to the socio-economic development of Ghana.
He acknowledged the numerous sacrifices the volunteers make as they leave their families and the comfort of their homes to the remotest areas in Ghana for the service of mankind.
The Vice President said this when the Japanese Ambassador to Ghana, Keiichi Katakami led a seven-member volunteer corps to pay a courtesy call on him at the Castle Osu.
They were also accompanied by Kunihiro Yamauchi, Chief Representative of the Japan International Cooperation Agency (JICA).
Mr. Mahama commended the volunteers for their selfless spirit to give what they have to those in the rural areas who are deprived, by living with them.
He mentioned that the level of cooperation between the volunteers and the rural people to the extent of learning their languages ought to be harnessed for greater cooperation.
The Vice Presented therefore called for more cooperation between Ghana and Japan for the mutual benefit of all.
He thanked the Japanese government for helping Ghana in diverse ways.
For his part Mr. Katakami mentioned that since the inception of the programme to date, 929 volunteers had completed their assignments here and returned to Japan.
"Currently, we have 79 JOCVs serving in various organizations in Ghana. The volunteers generally serve a two-year assignment period under Japan/Ghana Technical Cooperation Programme," he said.
The exchange of notes which paved way for the establishment of the Japan Overseas Cooperation Volunteers in Ghana was signed on February 17, 1977 between the Governments of Ghana and Japan.
The first batch of volunteers made up of seven science and mathematics teachers, one vegetable growing volunteer and a rice cultivation volunteer arrived in Ghana on August 17, 1977.
The volunteers demonstrated their ability to speak the local languages as they greeted the Vice President in Twi, Ewe and Daagari and also sang the Ghana National Anthem.
By Wisdom Peter Awuku