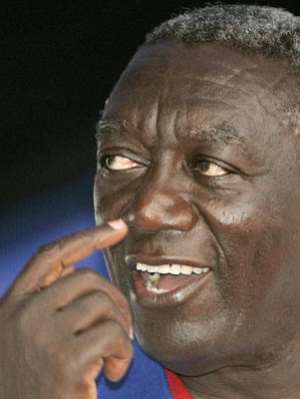 Ex President John Kuffour
In response to the article which appeared in ghananweb today I wish to make it clear to the Ex President John Kuffour that, No President can gets pay offs like the way he is treating Ghana. A small pension might be fair but such a pay off is questionable.
It is absolutely clear that Ghana would be doomed under an NPP third term in Government. Who authorise such a payment. Is the Ex President Kuffour aware that 999 % of Ghanaian will never see this amount in their entire life?
Great leaders are driven by the desire to serve rather than by a lust of power. This is precisely what a US management expert Robert Greenleaf whose innovative leadership principles are taking root in the U.K. How can Ex President Kuffour say that he is empowering our brothers and sisters who end up street hawkers. Ghana's Ex President Kuffour used his power to control Ghanaians whereas servant leadership is not about control at all. On the contrary it is about how we can genuinely serve people, not how we can get them to do what we want them to do.
The below story regarding ex –gratia awards is rather alien in the develop-ed world. This Ex Kuffour awarded himself whilst in office with a golden award. What else does he want from Ghana. The greed of our Ex President really contradicts the ethos of Robert Greenleaf. Does he still expects the ordinary taxpayer to provide security? Is Ex President Kuffour aware that all the U.S Presidents never get a pay offs and instead work for a living. I hope he realise now that Ghanaian are more astute than ever now. Ex President Kuffour could have got his way under another NPP perhaps. Any Government who takes Oath to serve Ghanaians and decide to enrich themselves should face the same fate as other corrupt Presidents and head of states on the beach as we have some many of them. No one will buy into these Alice in Wonderland dreams of his.
www.ghanaweb.com: General News of Friday, 6 February 2009
$20m already paid for ex-gratia awards
An amount of about US$20 million has already been paid into the accounts of former public officials including former President Kufuor, according to JOYFM
The monies were paid by the Bank of Ghana.
The Finance Committee of Parliament, chaired by Mr. Moses Asaga, MP for Nabdam Constituency approved the payment of the end of service awards without consultation with the National Democratic Congress (NDC).
Asaga signed the document for the payment of the monies from the consolidated funds which has already being effected and he did that without consultation with the President nor the Transitional Team.
President Mills has ordered investigations into the matter and the Accountant-Generals Department has been instructed to halt further payment of the monies.
Mr. Moses Asaga who was earlier nominated for the ministerial position of Water Resources, Works and Housing had his nomination withdrawn today, February 6, 2009. The withdrawal was announced in a statement signed by the Presidentâ.,Press Secretary, Mahama Ayariga and issued to the Ghanaian press and media while some nominees were being vetted in Parliament. No reasons were given for the withdrawal.
The announcement of the ex-gratia awards was greeted with shock and consternation by a large number of Ghanaians who thought the package was vulgar and obscene. The public reaction forced some MPs to renounce the action and distance themselves from the approval committee and Parliament