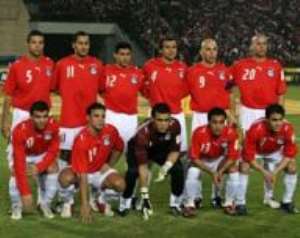 EGYPT ARE AFRICAN CHAMPIONS Egypt head coach Hassan Shehata has conspicuously left out flamboyant playmaker Mahmoud Abdul-Razek 'Shikabala' from the Pharaohs' squad for Wednesday's international friendly against Ghana.
 
The picked local-based players were revealed on Friday, except for Ahli's, who will be announced later after the Red Devils' African Super Cup encounter against Sfaxien.
Seven abroad-based players have been also recalled for the warm-up game, which is a part of the six-time African champions' perpetrations for the last phase of the 2010 World Cup qualifiers.
Former PAOK Saloniki player Shikabala has been snubbed for no apparent reason.
The 22-year-old was seen shouting and ranting after been heavily jeered by Zamalek's fans during the last minutes of Thursday's 1-0 loss to Ghazl Mahalla in the Egyptian Premier League.
His angry gestures suggested he was telling the angry spectators that he won't feature for the White Knights again.
After the final whistle, Shikabala angrily took off his jersey as his teammates Hani Saied and Mohammed Abdul-Monsef were trying in vain to calm him down.
Local-based Players:
Abdul-Wahed Al-Sayed, Mahmoud Fathallah, Hani Saied (Zamalek), Ahmed Al-Muhammadi, Abdul-Aziz Tawfeek, Ahmed Raouf (ENPPI), Ahmed Samir Farag, Ahmed Khairi (Ismaili), Ahmed Eid, Ahmed Abdul-Ghani (Harras Hodoud).
Foreign-based players:
Essam Al-Hadari (Sion), Hosni Abd-Rabou (Ahli Dubai), Emad Meteb (Ittihad Jeddah), Mohamed Shawky (Middlesbrough), Mido, Amr Zaki (Wigan Athletic), Mohamed Zidan (Borussia Dortmund).
 
Source:filgoal.com
For more Ghana football news visit www.ghanasoccernet.com