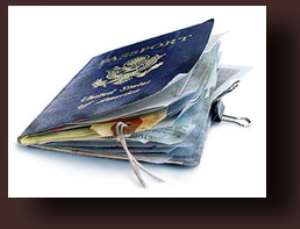 It is such a cheerless irony; securing a passport in Ghana is so wearisome and yet Ghana's passport is so cheaply acquired. See, you can own several passports in Ghana depending on what you intend to use it for. Is it a crime?
For instance, if you are the sort that thinks the grass can never be green down here and so go you must, the passport for your first 'connection' could say that you are a trader. If that fails, the next could be that you are a student, a footballer, a mason, a mechanic or a musician; it all depends on the traveling group of people the 'connection man' intends to use to smuggle you through.
If you are a foreigner, do not worry, the rules are the same. Just make sure you do not apply for the passport directly through the Ghana Immigration Service (GIS); that is where the first side of the irony lies. They do not charge much; only ¢10.00 will do. But it could take you several months or even a year to acquire a passport from the GIS. They simply do not have a fixed date for it. I mean it. The only fixed date they have is to give you a month's interval after which you can check on your application to see if there are any queries on it. The original copy of your birth certificate also remains with them until . So until the passport is ready you cannot need your birth cert for any other thing.
Now, if you make the terrible mistake of thinking that the one month was for you to come for your passport, a cute little damsel freshly imported to reduce the number of young graduates on the streets who are crying of not having an office to fritter away their days will walk up to you and say, "Aaahhh, you paaaah. Just one month and you want your passport. Do you know how long others have waited?" Her guiltless show of amusement at your lot would collect a lump of pain and lodge it in your throat. It could kill. Her comments would be analogous only to the kind Okonkow's hopeless and hapless father Unoka, who owed every one of his neighbours some money, superciliously told his creditors when they came asking, "The sun will shine on those who stand before it shines on those who kneel under them."
And do not ask if they have an arrangement for express applications; the answer is an emphatic NO.
And I know since you are in a hurry to travel you would not want to risk it. So the wisest and safest thing to do is to see the passport contractors. Please, they do not have offices like the GIS, o.k.? So do not go looking or asking for their offices. Just put your ears and eyes, and indeed all your senses on the ground. You will find them. They are very fast and efficient. With them, the good thing or so for you is that you call the shorts; with your 'dough' of course. How soon do you want it? Is it a week, two, three or four, or even days? Just mention it and it shall be done; quietly.
What is more, they can get you as many passports in your same old name and your same well-known face, if it has not been tampered with of course, as you so wish. And where else do you think they get the passports from?
Also, you can keep your birth certificate; the contractors do not need it. All they need is the 'dough', the right kind. On the other hand, as if it mattered, the GIS would not accept even a photocopy instead of the real thing, try it.
Is anybody alarmed by this piece? If you are, I want to know the aspect that alarms you. Is it what you might want to think is a rather risky and audacious design of the piece or the naked truth it carries regarding the process of acquiring passports in Ghana, or both? Tell me.
I know we value evidence so much in Ghana; and I know too well that without this evidence, which we all see but do not see; the evidence which looks to us all like a pool of water on the prospect but turns out to be a hazy meeting of nothing as we draw closer to it, nothing unright can be righted in Ghana. That is why I do not have any evidence to give; and that is why you too cannot ask me for any. Simple.
See, all I am refusing to do here is to keep quiet as if all was well with the passport office. I know you know that it is true - all I have said above. Your only problem might be that the truth, told especially in the manner it appears above, tends to be as tart as bile and as jaw piercing as fermented kenkey.
Did the GIS deny this guy a passport for him to have been grumbling all day? Well, you are forgiven for thinking so. You are very much forgiven since I am sure you would have said "he is right" even if it were the case that I had been denied a passport. Wont you?
Now, what would you do if you woke up and heard that there was going to be a peaceful (and I mean peaceful) walk by a group of 'change-oriented' Ghanaians to the offices of GIS, to the presidency and to parliament house to ask for a change in the affairs of that institution? I am not organizing one please. It is just one of those funny thoughts you know; the sort that refuses to leave an idle mind to its idleness.
Lest I forget, here is a 'peace' of advice to the journalists who want to visit the passport office for answers to the question. I am here referring to questions like: How far have plans gone for the introduction of the "biometric passport?" How much will it cost the tax payer? Why is it even necessary? What is wrong with the current one? How many Ghanaians hold passports? Why and how does Ghana's passport find its way into so many illegal hands? Etc etc.
Such journalists would have to do the following. First, ask yourself whether you are 'efie nipa'. Otherwise, write a letter to the ministry of I am not sure, detailing the questions you intend to ask at the passport office. If not, forget it. Sorry, I must give in though that if you have a 'good head' it could work for you. Try it.