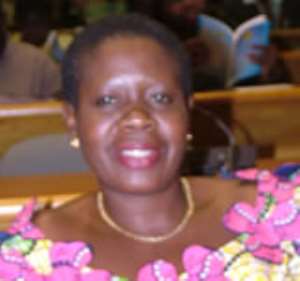 The minister-designate for the Women and Children's Affairs Ministry, Ms. Akua Sena Dansua has dropped hints she would launch a holistic reform programme for the ministry when she gets the nod to be minister.
The Member of Parliament (MP) for North-Dayi said she intends to change the structure and programmes run by the ministry. She however did not provide specifics.
At a vetting session which presented a semblance of a courtroom showdown, the minister-designate intermitently appeared nervous while she answered some questions from members of the committee.
The chairman of the Appointments Committee momentarily had to go to her rescue when the battle got tough for her.
Responding to a question by the MP for Ayawaso West, Akosua Frema Opare, on the relevance of her ministry to the country, the minister-designate said "the Women's ministry is a step in the right direction for women's empowerment and for children's empowerment."
The ministry, introduced by the erstwhile Kufuor administration, has been deemed to be a major force for the protection of the rights of women and children in the country.
Madam Dansua who described herself as a 'district-oriented' minister-to-br also touched on a number of activities she would do if she became minister.
She said she would establish offices in all 110 districts of the country but hinted that human resource constraints could be a challenge. She however expressed hopes that the government would make funds available to engage the needed expertise to support women and children even at the district level.
Perhaps the biggest dig of the day came when the MP for Abuakwa South asked if Madam Dansua had been filing the returns of her non-governmental organisation (NGO).
The minister designate, who said she was not aware of any regulation that demanded that she filed the returns of her organisation although non-profit making, was immediately reminded by a committee member that she had flouted an important tax law.
Madam Dansua responded in the affirmative to a question posed by the MP of New Juabeng North, Hackman Owusu Agyeman whether Madam Dansua would engage the services of the 31st December Women's Movement, an NGO formed by the former First Lady Mrs Konadu Agyeman Rawlings.
The minister-designate indicated that the movement would only be one of the many organisations the ministry would partner in the delivery of its duties.
Madam Dansua left the chamber soon after her vetting with her face beaming with broad smiles.
The vetting of all 35 executives nominated by President Mills is expected to end on February 13, 2009.
Story by Fiifi Koomson