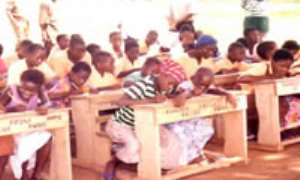 Mr. Charles Asaga, a 55-year-old farmer at Mpem in Nkoranza South District has enrolled in the local primary school to acquire basic education.
Mr. Asaga is in basic level three.
Madam Margaret Owusu-Sekyere, Nkoranza District Education Basic Schools Coordinator, told the Ghana News Agency (GNA) at Nkoranza that she was concerned about the spate of school dropouts.
Madam Owusu-Sekyere said her outfit was to liaise with the District Directorate of Education to provide school bags, uniforms and writing materials to Mr. Asaga.
Mr. Kwaku Mensah Osei, the class teachers said the teachers would encourage Mr. Asaga to sustain his interest in education. GNA
DK