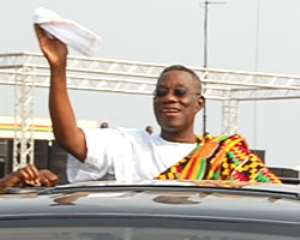 The Kusassi community in the Ashanti region has thrown its weight behind Mr. Cletus Avoka, the Interior Minister-designate, whose nomination by President John Evans Atta Mills is being challenged by a section of his constituents.
The Ashanti Kussasi group holds a contrary view and believes that Mr. Avoka is a man of peace who bas no hand in the Bawku conflict as is being claimed by a group calling itself -The Concerned Youth of Bawku.

According to the Kussasis in Kumasi, there was no evidence that Mr. Avon played any role in the Bawku conflict and that he would not stoop so low to involve himself in divisive tribal politics.
In a statement issued in Kumasi on Thursday, and jointly signed by the Head of the Kusasi Community, Chief Edward Azumah Ndagu and the General Secretary, Nicholas Agbango, they said "Hon. Cletus Avoka is no novice in politics and has held the position of Upper East Regional Minister and different Ministerial appointments during the NDC administration from 1992 to 2000." The group averred that the Hon. MP was never found to have used his position to discriminate against minority ethnic groups in Bawku.
The Association said Ghanaians should be rest assured that Hon. Cletus Avoca, like most peace loving citizens in the Bawku Traditional area as a whole, believes in using dialogue instead of beating war drums.

The group also stated that the nominee is the right person for the Interior Ministry.
Mr. Avoka is a Kussasi and a three time MP for Zebilla. A lawyer by profession, he served as counsel for the Kusasis.