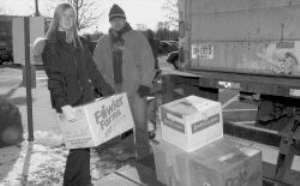 Monmouth University of Social Work student Jillian Tomiak and Luciand Feirrera, from Star Transport, load boxes of books into a truck.
WEST LONG BRANCH — Students from Monmouth University's School of Social Work, along with the Monmouth University library, several publishers and Dr. Paul Brenner of Tinton Falls collected 43 boxes of used textbooks for students at the University of Ghana.
The project is part of the "Books for Ghana" project. The books were boxed and shipped to Ghana on Jan. 22. Shipping costs, along with fees to pick up the books in Ghana, were paid for by the School of Social Work.
This is the second time the School of SocialWork has sent books to Ghana, according to a press release from Monmouth University. The first time was in 2006.
In 2004, Monmouth University signed an agreement with the University of Ghana for educational exchanges and cooperation. Every year since 2005, students from the International and Community Development program have gone to Ghana to complete their internships and Monmouth University has hosted one Ghanaian student in the summer of 2007 to finish her internship.
The students from Ghana thanked MonmouthUniversity for the generous gift and indicated that the books make a crucial addition to their library, according to the release.