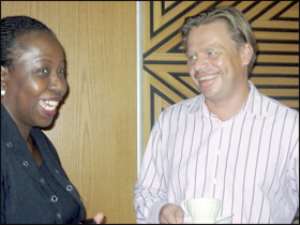 Ms Opeke (L) in a chat with one of the workers As a move to digitally connect Africa with the rest of the world, Main One Cable Company has begun work on an undersea fibre optic cable from Portugal to Africa.
The Nigerian company which has its subsidiary in Ghana has secured the pioneer landing licences from Ghana and Nigeria respectively last year.
The licences, secured from Ghana's National Communications Authority and the Nigerian Communications Commission respectively, grant Main One Cable Company the right to land its intercontinental undersea fibre optic cable in Ghana and Nigeria.
The first phase of this project which has already commenced cost the company over $200 million and it spans 6,900 kilometres and will extend from Portugal to Ghana and Nigeria with an additional 6,000 kilometres extension to South Africa and Angola in the second phase. When the project is completed, Nigeria, Ghana and the rest of Africa are set to experience a major boost in internet access and a hefty reduction in tariffs.
The organisation has made the requisite contractual payments to Tyco Telecommunications which will implement both phases of the project.
According to Funke Opeke, Chief Executive Officer of Main One Cable Company, the development represents a major landmark for the continent, as this is the first time ever that a private sector driven undersea cable network is receiving landing licences. Opeke told the press in Accra that negotiations are ongoing with other countries along the coastal route earmarked for the undersea cable.
The unique promise of the Main One undersea cable to boost internet access across the African continent, Opeke stated, "lies in the huge improvement in bandwidth which we will be driving even while reducing costs phenomenally".
She said Main One is deploying the very latest technology in undersea fibre optic cabling.
"In employing the combination of Dense Wave Multiplexing Technology of 1.28 Terabits per second and two fibre pairs, Main One will deliver far more capacity to the region than any existing or proposed undersea projects even while bringing costs down to about 20 percent of what is currently obtainable from SAT 3 or satellite service operators,"  Opeke stated.
The project, she added, will provide open access to regional telecom operators and internet service providers.
In addition to providing a major boost to internet access on the continent, Main One will also help to considerably minimize the difficulties of switching traffic between African countries and eliminate the inconveniences and added costs of first routing traffic to Europe.
"We will also enhance job creation and local content development through skills transfer in ICT and particularly networking technologies".
Opeke expressed delight at the impressive pace at which the ambitious Main One cabling project is progressing.
"All of the key stakeholders on this project including regulators, individual investors, private equity institutions, development finance institutions and a handful of African banks, as well as our turnkey project partners among others have been very supportive, and we remain confident that the Main One project will be completed on schedule in May 2010".
By Felix Dela Klutse