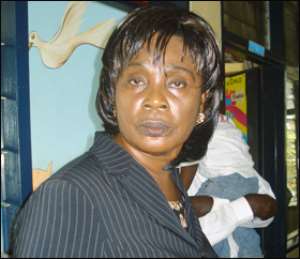 Maame Dokono CELEBRATED Ghanaian actress and human rights advocate, Grace Omaboe, popularly known as Maame Dokono was yesterday detained for close to four hours at the Ministries Police Station in Accra, a move she described as politically motivated.
Seven officials from the Domestic Violence and Victims Support Unit (DOVVSU) of the Ghana Police had stormed Maame Dokono's Peace and Love Rehabilitation Centre at Adenta in Accra and reportedly engaged her in a brisk but aggressive scuffle in an attempt to whisk her away.
When DAILY GUIDE got to the Police Station, Maame Dokono showed bruises she sustained on her wrists during the arrest and confirmed that she was actually ruffled by the Police.
Though Police officials denied being violent on the actress, a number of eye-witnesses who were present during the arrest claimed they saw the fracas and even had to intervene to save the actress from further assault.
Police however claimed that the actress resisted arrest.
Media reports of the incident and continuous detention of the renowned actress and talk-show hostess annoyed several of her fans who subsequently trooped to the police station, staged a rather raucous demonstration and insisted on her immediate release.
The protesters, led by Frances Assiam, a well-known political activist, arrived at the police station in six vehicles and insisted that unless Maame Dokono was granted bail, they would not leave the station.
They appeared rather aggressively charged as they chanted, "Free Maame Dokono now", "We want Maame Dokono", "NDC leave Grace Omaboe alone" among other slogans.
A number of Ghanaian film actors including Prince Yawson, popularly known as "Waakye" and Amankwah Ampofo who is known for often playing the role of Maame Dokonu's husband in several Ghanaian movies, were also at the station.
The arrest, which was perceived to have been politically orchestrated due to Maama Dokono's open endorsement and campaign for the New Patriotic Party (NPP) during the last elections, drew scores of the party's supporters and local executive members to the police station yesterday.
While some had brought mats and food, ready to pass the night with the actress, others simply hurled insults at the police for preventing them from seeing the detained actress.
Police personnel at the station had a tough time bringing the situation under control as the protesters gradually increased in number and became more agitated.
Coincidentally, Maame Dokono was granted bail less than 20 minutes after the arrival of the demonstrators and her release resulted in the protestors becoming jubilant and believing that it was their presence that facilitated the bail.
The protestors on seeing the released actress, mobbed and carried her shoulder high refusing to let go of her until Frances Assiam came to her rescue and ushered the rather tired-looking actress into a waiting vehicle.
Maame Dokono all this while kept repeating her gratitude to Frances Assiam and the protestors.
The actress is facing charges of exposing children to danger and allowing her premises to be used for sexual activities.
DAILY GUIDE gathered that while Maame Dokono was on holidays in Holland about three weeks ago, some inmates of the orphanage reportedly engaged in acts considered as sodomy and defilement.
Reports said three boys, aged six, seven and eight, had fingered a two-year-old girl and also sodomised a six-month old baby.
Maame Dokono, upon hearing about the case while in Holland, flew to Accra and asked officials of the orphanage to report the development to DOVVSU and investigations into the case commenced.
Subsequently, the supervisor of the orphanage was arrested, followed by that of Maame Dokono's and both were charged.
The actress described the charges as trumped-up by her political opponents to tarnish her image.
She wondered why anybody would prefer charges of child abuse against her when she was well-noted for her concern for kids.
She narrated that since her arrest about two weeks ago, she was granted a self cognisance bail and asked to report at the station daily.
After her second arrest yesterday, the self cognisance bail was withdrawn and she was given a bail with surety.
DOVVSU sources say she would soon be processed for court.
By Halifax Ansah-Addo