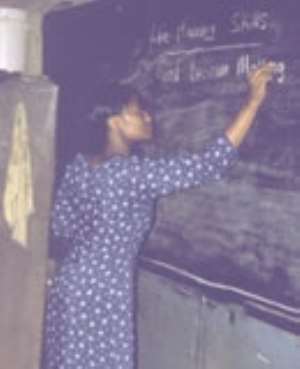 The Ghana National Association of Teachers (GNAT) and the Teachers and Educational Workers' Union (TEWU) on Thursday expressed concern about lack of cooperation between mangers of education, teachers and other stakeholders, calling for greater collaboration between them to ensure quality education for all.
"Within every educational system there are people including policy makers, education administrators, teachers and other education workers as well as parents and students, and there is the need to factor all these people in decision-making," they said in a joint draft policy document.
Mrs. Irene Duncan-Adanusa, General Secretary of GNAT, told a media briefing in Accra that the document was to ensure that Ghana, as a country, attained the status of quality education for all people.
She also advised all stakeholders in the education system to perform their roles properly to contribute to effective and efficient education.
She said, even though there was an improvement in the current education system there were still numerous challenges including low quality education, inefficient management system within the Ghana Education Service, weak supervision and monitoring, inadequate logistics for teachers and educational workers, the existence of gender disparity and prevalence of HIV/AIDS and other diseases which all affected quality education.
Mrs Duncan-Adanusa said HIV/AIDS had an impact on the education system because it could affect the children, teachers and parents adding that quality education could assist in the prevention of HIV/AIDS.
She said general counselling programmes should be organized for teachers and educational workers to address the various problems such as retirement, housing and ailments and pointed out that there was so much poverty-related stress which affected quality education in the country.
"We need sustained in-service training programmes for teachers, perhaps using long vacations for regular refresher courses for teachers to enable them to give quality output."
She also touched on the School Feeding Programme and suggested that it should be expanded to cover all schools which were genuinely poor who but for the programme cannot feed their children daily.
Mrs Duncan-Adanusa therefore said there was a need for an assessment survey to be done throughout the country to identify needy communities, explaining that there were some schools which wee not poor but were benefiting from the programme while some genuinely needy schools did not benefit at all.
Mrs Duncan-Adanusa said the policy document would be circulated to all stakeholders in education, mentioning Parliamentarians, Ministers and District Chief Executives and appealed to all concerned with achieving quality education in the country to take concrete actions recommended in the document.
"There is no doubt that GNAT/TEWU have done a worthy piece of job," she said, and assured the public that they would continue to monitor the progress of the recommendations made in the document.