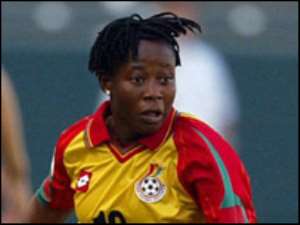 BAYOR IS FRUSTRATED Black Queens captain Adwoa Bayor claims Ghanaian side Ghatel Ladies are stalling her move to German Women's Bundesliga outfit FF USV Jena.
 
The 29-year-old is expected to make his debut on 08 February against 10th placed Herforder SV at the University Sports Centre.
But this is likely to fall through with the delay of her International Transfer Certificate and she believes her club want to scuttle her dream.
"The problem is with my team in Ghana.They want me to say I have contract with them but I don't have contract with them," Bayor told Ghanasoccernet.com
"I just play for them. I started playing when I was young so I just play football, I don't work so It came time we told them to take us to work and they said they can't afford.
"I told them I can't work so I want to play football and so if they don't send me the ITC I will come home," she added.
"This's a very big disappointment for me because I have served them for long.They thought maybe the team is giving me alot of money but I'm here to play and open the doors for other players."
Bayor captained the Black Queens at the 2007 Fifa World Cup in China and was looking for a career breakthrough with the move to Germany.
The highlight of her career was in 2003 where she was crowned Women's Footballer of the Year by the Confederation of African Football (CAF).
For more Ghana football news visit www.ghanasoccernet.com