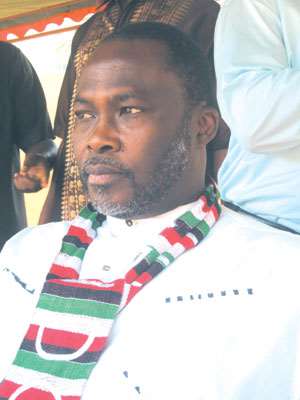 MR. EKWOW Spio Garbrah, the chief Executive of Commonwealth Telecommunications Organisation (CTO) flew out of town and back to his swanky office at Hyde Park, a broken man.
His huge frame – all 6 feet 2 inches of mass flesh lurched heavily into the suite as the wintry snow swept his office reaching sub-zero temperatures.
'I am telling you he was not even given a look-in by President Atta Mills and his inner caucus, he was simply overlooked. All the stories of him requiring permission from the CTO before taking a position in Government is hogwash, I can tell you that…." said a confidante of Spio, familiar with the situation.
On Joy FM yesterday, Spio Garbrah himself refused to be drawn into details of a meeting he had with the President before he left for London.
He said it was true that he had a meeting with the President, but because of the respect he had for the Presidency, he would not disclose what they discussed.
He put paid to reports that he had declined any position offered him as being speculated, describing it as 'propaganda he will not accept'
Continuing, Spio said he was no more important than the 114 MPs who had secured parliamentary seats, the party workers who had laboured for the party, and millions of others who had not been given jobs, so he is not unduly worried.
On air, Spio was being politically proper, but privately, he was beside himself with disappointment.
As he licked his wounds in London, he could reminisce on the seven trips he made to Ghana for the campaign while it lasted, especially when he had to excuse himself from his employers and do battle for the party.
After being appointed Minister of Communications, and later that of Education, after his first stint as the Rawlings administration's first ambassador to the United States, there was no high profile job left for him, a suggestion that was floated by one school of thought.
Several trips to Ghana to campaign for the NDC, and many high profile donations of brand new pick-ups, wading in on many bruising encounters with the opposition New Patriotic Party juggernauts, earned him high profile recognition across the political parties in contention last year.
A confidante of Mr. Garbrah, who is familiar with the matter, said 'Spio was dealt this blow by the same hands that worked against him in 1993, when he was tossed out of consideration by the vetting committee of Parliament. He was being considered for the Minister of Information portfolio, then occupied by Mr. Kofi Totobi Quakyi.
His ambition then was derailed by a well timed question thrown by the then Honourable Owuraku Amofa, the then MP for Abuakwa North.
The question that scuttled his ambition was whether he was a registered voter, which turned out to be fatal as it revealed that Spio indeed wasn't a registered voter, a fact that did not sit with the provision of the 1992 constitution.
To be considered for a Ministerial position, one had to be a registered voter for the purpose of holding an elective office. Spio then came crashing out of contention. At the time, he was the Communications Chief at the African Development Bank, in Cote d'ivoire.
He packed his bag and flew out the same day, back to his desk at Cote d'ivoire.
'It's the same cabal that is at it again, eighteen years later, the same thing', said the source.
As he renewed his allegiance to the party, Spio who is barely 54, vowed to stick with the NDC. ' I will always be a member of the NDC', he said.
Even though the telecoms chief observed that many people were displeased with the selection process, he agreed with the suggestions that if you could not get someone to lobby seriously for you, you will not get any position.
But Chronicle gathered that Spio's name was on a list forwarded to President Mills by ex-President JJ Rawlings.
Surprisingly, Mills promised the former President that he would add the list to the one been considered by a group that he had set up, that was going through names and vetting them.
Chiefs and other opinion leaders within the party had bombarded Mills' office and the International conference centre with bales of CVs and letters for appointments.
Another Londoner, who played a yeoman's role but is based in London and working in the Attorney General office of prosecutors, Alex Segbefia, has been promised a job at the office of the President.
But Spio may still have to await a reshuffle at best, and the CPP does not look like an option. His fate is tied to the NDC as he vowed yesterday.