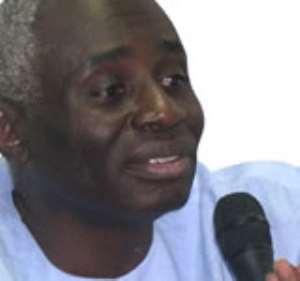 The former Chief Executive of the GNPC, Mr. Tsatsu Tsikata says the 'law on wilfully causing financial loss to the state' is unconstitutional.
He said the law is unconstitutional because it lacks definition by written law contrary to Article 19 (11) of the constitution which says "No person shall be convicted of a criminal offence unless the offence is defined and the penalty for it is prescribed in a written law.
Mr. Tsikata, therefore believes the law must not be on the statute books and must not be applied.
Speaking to Joy FM's Super Morning Show host Kojo Oppong-Nkrumah, Mr. Tsikata, said causing financial loss "is not a crime that is defined by reference to written law so the terms of that law are not defined b written law".
The highest court of the land, the Supreme Court, however, has disagreed with Mr. Tsikata's view and has accepted the constitutionality of the law.
Mr. Tsikata, who was slapped with a five-year jail term for causing financial loss to the state says the decision of the Supreme Court is unfortunate because "you don't seek the definition of crimes in dictionaries…some judges have done that but that is not what our constitution says".
"The Supreme Court itself has made reference to dictionaries or has supported the use of these dictionaries to define the law."
The former GNPC boss said he is arguing against the use of dictionaries because they often have a variety of meanings to certain expressions.
Resorting to the use of dictionaries to define crimes will leave people uncertain as what exactly the crime is.
But crime, he says "should be something very definite and clear so that whoever is going to be prosecuted knows what he was being held liable for."
Preventing arbitrariness
Mr. Tsikata rejected suggestions that he was just being a litigant having persisted on going back to court after former president Kufuor granted an absolute pardon.
He said it was important to clear his name by using the courts to remove the criminal conviction handed him.
The need to also ensure that leaders do not use their power to arbitrarily imprison people only to later pardon them also motivates him to go back to court.
Ghanaians must object to a situation where the president can target a person, try and convict that arbitrarily.
In any case the pardon, for him, does not remove the liability of the conviction because pardon is the same as acquittal.
He said he is prepared to go to jail if his appeal for the June 18 sentence by Justice Henrietta Abban to quashed fails.
Story by Malik Abass Daabu