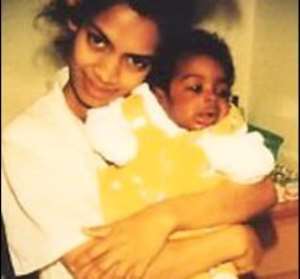 A mother whose baby is thought to have been abducted 19 years ago said she "lived in hope" that someone can give some information as to his whereabouts.
Five-month-old Ames Glover went missing from the back seat of his father's car in South Road, Southall in west London on 5 February 1990.
Shanika Ondaatjie, 41, said: "I don't care if it's good or bad, I just need to know."
A police spokesman said he was convinced someone knows what happened.
Ames' case is one of the longest-running abduction cases in the UK.
The baby's father Paul Glover, who is of Ghanaian descent, told police his son had been snatched from a locked blue Ford Sierra in the 20 minutes he left the baby alone to withdraw money from a cash point and get a take away.
Appealing for information Ms Ondaatjie said: "Although I have tried to move on, there will always be a part of me that cannot.
"I don't care if it's good or bad, I just need to know.
"Sometimes I see young boys in the street and can't help but wonder if one of them is Ames.
"He would be 20 years old this year and I have lived in the hope that one day I will find out where he is or what became of him."
A huge police investigation was launched over Ames' disappearance during which about 2,000 people - including both Ames' parents - were interviewed but no charges were ever brought.
In June 2002 after pressure from Ames' mother, Scotland Yard's Racial and Violent Crime Task Force took over the investigation.
Ghana tip-off
In 2003 officers travelled to Ghana in west Africa after a tip-off the baby may have been taken there.
However, in spite of a £10,000 reward offer for information their inquiries in Ghana did not yield any result.
Det Sgt Peter Birdsall said: "I am convinced someone knows where he is or what happened to him, it has been a long time and allegiances will have changed.
"I would also appeal to their consciences and think of the agony Shanika has been going through."