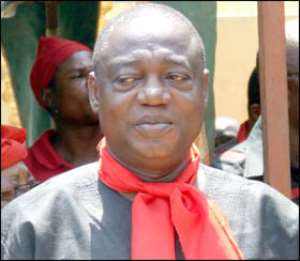 Benjamin Kunbuor President John Evans Atta Mills has the final say regarding ministerial nominations and does not owe any person an explanation for his nominations, but the decisions he makes sometimes do not go down well with some of the people on whose wings he rode to power.
Indeed some questions have been raised by some natives of the Lawra-Nabdam constituency over why an experienced party bigwig, Dr. Benjamin Kunbuor, has been left out of the list of President Mills' ministerial nominations.
A statement signed and issued by representatives of the group said though the learned lawyer and committed party member lost his parliamentary seat, his effort during the campaigns did President Mills and the National Democratic Congress (NDC) a lot of good in the constituency, therefore his apparent exclusion from President Mills' Cabinet is raising questions in the minds of party members in the constituency.
They threatened that if the President denied the former Member of Parliament for Lawra-Nabdam the opportunity to make his people proud, they would openly campaign against the NDC come 2012.
Efforts to reach Dr. Benjamin Kunbuor on phone for his opinion on the issue could not yield any positive results.
From Ebo Bruce-Quansah