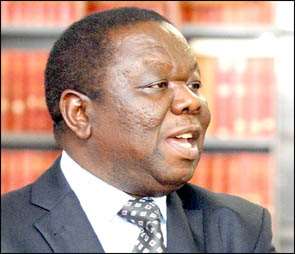 Morgan Tsvangirai Zimbabwe's opposition said Tuesday that President Robert Mugabe's party has begun to backtrack on the inclusive government set to form next week and is dithering on discussions of contentious issues.
Nelson Chamisa, spokesman for the opposition Movement for Democratic Change (MDC), said in a statement that Mugabe's Zanu PF party had said it was awaiting Mugabe's return from Ethiopia, where he is attending the African Union summit.
"We in the MDC are convinced that there is no intention on the part of Zanu PF to put all these issues to rest. There is no wish to consummate an inclusive government in line with SADC (Southern African Development Community) resolutions," said Chamisa.
"There is no wish to alleviate the suffering of the people of Zimbabwe through a negotiated political process. In short, there is no wish to tackle the outstanding issues as directed by the SADC Heads of State. Zanu PF is panicking. It has been caught flat-footed. Zanu PF never budgeted that the MDC would agree to be part of the inclusive government and now they are in sixes and sevens while trying desperately to scuttle the deal," he said.
Mugabe and MDC leader Morgan Tsvangirai signed a power-sharing deal in September. Under the deal -- brokered by former South African leader Thabo Mbeki on behalf of SADC -- Mugabe would retain the presidency while Tsvangirai would become the prime minister.
The deal has yet to get off the ground, because Tsvangirai accused Mugabe of taking all the key ministries. Tsvangirai says he wants the issue of who controls the security forces to be addressed before a government is formed.
Last week Tsvangirai said he was committed to the inclusive government, set to be formed by February 13 -- a date set by SADC last month -- if the outstanding issues are addressed.
Chamisa added: "Zanu PF is spoiling to scuttle the inclusive government which SADC directed should be in place by 13 February 2009. We are ready to clear all outstanding issues so that we collectively confront the challenges facing the people of Zimbabwe. Zanu PF is not. We are ready to tackle cholera, unemployment and the collapse of basic services such as education and health. Zanu PF is not."
Repeated efforts to get a comment from Zanu PF spokesman Nathan Shamuyarira were fruitless, while Patrick Chinamasa, the Zanu PF negotiator in the talks, referred all questions to Mugabe. CNN