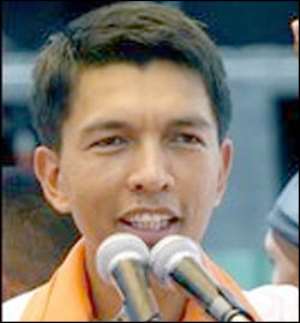 Andry Rajoelina The Madagascar government has fired opposition leader Andry Rajoelina from his role as the capital's mayor, amid ongoing political turmoil in the city.
Mr Rajoelina had called for President Marc Ravolamanana to resign, and proclaimed himself in charge of "national affairs" on Saturday.
At least 44 people have died during protests in recent days amid the bitter power-struggle between the two men.
A city official gave no reason why Mr Rajoelina was being replaced.
President Ravalomanana, a 59-year-old self-made millionaire, has insisted he is still at the helm and called for calm, according to Reuters news agency.
The African Union has condemned any moves to overthrow him.
Analysts say Mr Rajoelina has successfully tapped into widespread frustration with the government, but may have over-played his hand in trying to overthrow the president, whom he calls a dictator.