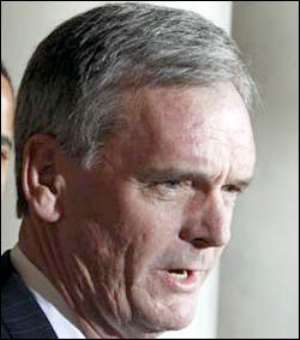 Sen. Judd Gregg President Barack Obama named a third prominent Republican to his cabinet on Tuesday, nominating Senator Judd Gregg of New Hampshire as commerce secretary.
A respected lawmaker and accomplished negotiator, Gregg, 61, is the ranking Republican on the Senate Budget Committee. He could play a key role in selling Obama's nearly $900 billion stimulus package to skeptical members of his party.
"Judd is a master of reaching across the aisle to get things done," Obama said at a ceremony at the White House to introduce Judd.
"He will be an outstanding addition to the depth and experience of my economic team, a trusted voice in my cabinet, and an able and persuasive ambassador for industry who makes it known to the world that America is open for business," he said.
Obama did not respond to a shouted question from a reporter about the decision by Nancy Killefer, his nominee to oversee budget and spending reform, to withdraw her nomination for tax reasons.
In January, Obama's first pick for commerce secretary, New Mexico Governor Bill Richardson, withdrew in the face of a legal inquiry.
Richardson denied any wrongdoing in connection with the inquiry of a California-based financial company that had done business with the New Mexico state government.
Gregg had said he would not take the cabinet job if it pushed Obama's Democrats closer to the 60-seat mark in the Senate, thereby allowing them to pass laws more easily. The governor of New Hampshire has agreed to fill his seat with a Republican.