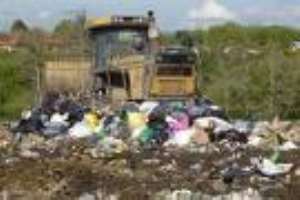 Osabarima Kwesi Atta II, Omanhen of Oguaa Traditional Area, on Wednesday called on members of Cape Coast Metropolitan Assembly (CCMA) to strictly implement its bye-laws on sanitation and prosecute offenders.
He expressed concern about indiscriminate littering and defecating, dumping of refuse at unauthorized places and unsanitary practices that could lead to an outbreak of cholera and other communicable diseases.
Osabarima Atta made the call at a meeting with assembly members and stakeholders including market women, representatives of Keep Fit Clubs, private waste management companies and the media to strategise on sustained clean environment in Cape Coast.
He said it was time for "Cape Coast to put its house in order" to prevent diseases, to keep the environment healthy and enhance tourism to generate more revenue for development.
Osabarima Atta therefore asked the assembly members to undertake intensified educational campaign on the need to avoid unsanitary practices and keep clean environment.
Nana Opoku, Chief Environmental Health Officer of CCMA, said it would organise massive clean-up exercises every quarter starting from Saturday February 14.
He explained that after the exercise, every assembly member would be mandated to organise monthly clean-up exercises in their communities to help sustain a clean environment in the metropolis.
Nana Opoku, said the assembly would continue its sensitisation and educational programmes on radio stations to alert the public on good sanitary practices, after which offenders would be arrested and prosecuted.
Nana Awuku, Presiding Member of the assembly, urged members to be vigilant and have the political will to enforce bye-laws on sanitation in their communities and prosecute offenders.