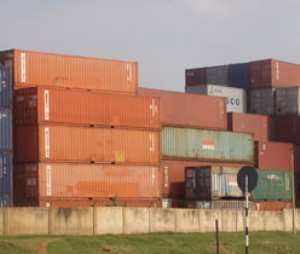 Bilateral trade between Ghana and India will reach one billion US dollars by 2015.
Trade between the two countries reached US$947.62 million during 2007-08, Ghana's High Commissioner in India, J. Bentum-Williams has told the media in Kolkata, India.
"According to available statistics, the trade turnover between the two countries has gone up to US$ 947.62 million in 2007-08 as against US$ 563.84 million in 2006-07. We expect bilateral trade to touch US one billion dollars between 2012 and 2015," Mr. Bentum-Williams was quoted as saying Wednesday February 4, 2009.
Accoding to the reports, the High Commissioner made the remarks after the opening of a Ghanaian consulate in India. D. P. Tantia, a business executive and Chairman of the GPT Group was appointed as consul.
Giving reasons for the opening of a consulate in Kolkata, he said the city was the centre of various industries like steel, engineering goods, non-ferrous metals, jute and tea which have relevance for the people of Ghana, the reports said.
He also pointed out that a number of players in Kolkata's football clubs were from Ghana, and that he said creates a vast potential for exchange in the field of sports, arts and sports and tourism between Ghana and India.
Citing the discovery of oil in Ghana he said, that has also thrown up investment potentials in ancillary areas like real estate development, housing, hotels and allied areas, according to the reports.
By Emmanuel K. Dogbevi