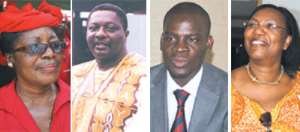 The Double Club in Islington, north London, seemed the perfect place for lunch with Dambisa Moyo, a Zambian economist preparing to take on the western donor establishment with the publication next week of her first book, Dead Aid. At the Double menu, décor and music are split– half-African, and half-western – under the same roof. You can sit on plastic chairs and wash down peppery goat stew with a bottle of Primus beer, just as you might in the Congolese capital Kinshasa, while the other side of the room tucks in to roast partridge. Or, if you are more of a gastronomic chameleon, you can shift between the two.
It is wining and dining as art, or at least that's what reviews say of this restaurant-cum-installation, designed by Carsten Holler to inspire a "dialogue of cultures" and to fund a hospital in the Congo through a share of the profits. And when Moyo seemed somewhat at a loss about where to meet, I suggested it might prove a fitting backdrop for a discussion on the effectiveness of western development programmes in Africa.
Moyo, who is in her thirties, was born in Zambia. Her father, the son of a South African mineworker, is an academic and anti-corruption campaigner; her mother, the chairwoman of the Indo-Zambian bank. Equipping herself with a rack of degrees, including a Masters from Harvard and a doctorate from Oxford, she has worked for the past eight years as a global economist at Goldman Sachs. Her book, she tells me, was born of frustration at how few Africans are listened to on an issue central to the continent's future.
THE DEVELOPMENT DEBATE
Assistance to Africa – aiding or abetting?
It is hard to argue with the lofty ambition to end, once and for all, the scourge that is global poverty.
How the world should go about this, however, is a much more vexed topic. If poor countries do not have sufficient capital, aid advocates say rich ones will have to help.
In the west, rock stars, academics, NGOs and politicians have lined up to champion a massive increase in aid, primarily targeting Africa.
Ranged against them is a smaller but no less vocal group of activists and economists who believe that aid compounds poverty by fostering dependency, breeding corruption and stifling enterprise.
Moreover, the latter group argues, in order to justify the increased spending on aid, Africans have often been portrayed as helpless – a factor that has discouraged the very trade and investment necessary to drive development. Below are some of the key actors in the debate.
FOR Jeffrey Sachs
The US economist and adviser to the UN has provided intellectual underpinnings for the global campaign to make poverty history. His master plan, outlined in The End of Poverty, would require a colossal increase in aid, with net transfers reaching $195bn a year by 2015. He also advocates a holistic approach that addresses everything from infrastructure deficits to Aids.
Bono and Bob Geldof
The two rock stars have played a central role in persuading UK public opinion of the need for more aid, pressuring governments to commit to it and raising the profile of the issue via the Live 8 concerts. At times they operate as "good cop/bad cop". U2 lead singer Bono is all charm and persuasion, but when that doesn't work, Bob Geldof comes in effing and blinding.
Tony Blair and Gordon Brown
Another potent double act – at least when it comes to emoting about aid. Blair helped prick global consciences, putting poverty on the agenda at the G8 summit at Gleneagles in 2005. Brown, as the UK's chancellor, has championed debt relief.
AGAINST William Easterly
Easterly, like Sachs, is also a US academic, and has produced weighty compelling arguments against western development programmes, notably in his books The Elusive Quest for Growth and The White Man's Burden: Why the West's Efforts to Aid the Rest Have Done So Much Ill and So Little Good.
Andrew Rugasira
The Ugandan entrepreneur and part-time preacher delivers his message in less conventional ways: from the shelves of UK supermarkets. His Good African Coffee sells in Tesco, Sainsbury's and Waitrose, with 50 per cent of profits channelled back to coffee farmers. Aid, each packet tells the consumers, stifles creativity and creates crippling dependency. Trade with Africa, he says, is the answer.
And, as the historian Niall Ferguson (a contributing editor to the FT), notes in a foreword to Moyo's book, she is venturing into a debate that has to date been colonised by white men – be they rock stars such as Bono, politicians such as Tony Blair or the academics Jeffrey Sachs and Bill Easterly.
My attempt at finding a venue to reflect such dichotomies was as doomed as many a well-intentioned solution cooked up in the west: the Double Club is closed at lunchtime. Instead, we made our way to Murano, a chic Mayfair restaurant opened last year by Angela Hartnett, a protégé of Gordon Ramsay, which Moyo, a self-confessed "foodie" has had recommended by a friend.
We both arrived with an appetite at 2.30pm, the first available booking on the limited number of tables evidently much in demand among London's well-to-do. Before we could say 'Bob Geldof,' an enthusiastic waiter popped up with a menu, a bowl of cheese balls infused with truffle essence, and a host of suggestions.
The latter took a long-winded, narrative form. The pheasant, if I remember correctly, had been subject to an elaborate, posthumous ritual involving roasting, spiking with onions and rosemary, and dicing, before being laid to rest on a bed of agnolotti. Wary of being distracted, we both quickly chose crab with squid-ink tagliolini, garlic and, as it turned out, only the mildest hint of chilli. At Murano, it seemed certain that Moyo would be the only African ingredient in the mix.
Parts of Africa, we agree, between mouthfuls of tagliolini, have begun to turn the corner. It is not that poverty has been falling in any way fast enough to merit champagne (she settles for a glass of chardonnay and I order rosé), nor that its causes and symptoms have shown signs of going away. But as China and other emerging powers have competed for opportunities and resources overlooked by former colonial powers, the price for the commodities on which many African economies depend began to rise. In turn this revitalised the interest of European and American investors. Africa – or parts of it – was looking like the last great frontier market, and private capital from across the world started responding – albeit in amounts that only scratched the continent's needs.
There is, also, a hopeful generation of younger Africans, Moyo among them, who straddle many worlds – Kenyans call them "Afropolitans." Some of them have seized the opportunity to become intermediaries, harnessing both foreign and local capital and putting it to productive use.
All this has begun to provide African countries with financing alternatives to what Moyo sees as the deadening inefficiency of money-for-nothing western aid. "Africa has new trading partners. It doesn't have to grovel to the west," she says, bluntly.
Her book contains a damning assessment of the failures of 60 years of western development programmes, but also focuses on an alternative path. This blends micro-finance and changes to property laws with a grasp of the immense opportunity and freedom that shifting global trade patterns, Chinese investment in infrastructure and bond markets could represent for Africa.
"There has been more private capital coming into Africa; more African countries have been issuing bonds. There are the Chinese ... Africa has turned a corner. Now it's about closing the deal," she insists with characteristic optimism and a slice of Parma ham, delivered as an amuse-gueule between courses.
Even so, despite hopes that many African economies are better-prepared to weather this global recession than recessions past, recent signs have hardly been encouraging. Mines are closing, markets crashing and foreign money has been reversing out. Even the Chinese, whose appetite for African resources and markets seemed set on accelerating auto-pilot, are slowing down. The most cynical theory I've come across in London is that the exuberance about Africa last year was itself the surest warning that investors had overshot the mark and the great global bubble was about to burst.
I suggest to Moyo that it is hardly realistic at this point for African governments to tell their foreign donors to get lost, and go courting international bond markets – a key component of the world without aid that Moyo outlines in Dead Aid.
She is unfazed, her belief in the ultimate power of free markets apparently unshaken by the prevailing gloom. I'm also stirred from darkening thoughts by the arrival of the second course – I chose John Dory, one of the more outlandish-looking fish in British waters. It comes with "a thyme chicken reduction", which sounds like a discount but must, on reflection, have been a stock or a sauce (there was certainly no sign of a discount – the bill was equal to the per capita gross domestic product of Congo). She has the line-caught sea bass, with white beans, spiced tomato sauce and chipirones.
Moyo's optimism is counterintuitive and starts with the credit crisis itself – "a great opportunity for Africa," she says. Yes, there are real and worrying problems emerging, she agrees, and she has just returned from Zambia, where state revenues have been hit by the collapsing price of copper, the country's main export.
But she is starting from the premise that aid not only doesn't work but is a large part of the problem: it crowds out private investment, fosters corruption, fuels conflict and undermines the rule of law. If that's where you begin, then the fact that some donor countries are already squeezing their aid budgets and shelving lofty commitments to poverty eradication should prove a healthy wake-up call for African policymakers.
In fact, Moyo proposes far more radical treatment: a telephone call from every donor nation to every aid-dependent government in Africa, warning that in five years the taps will turn off. This, she believes, would trigger the search for alternative financing on a commercial basis, and force governments to create conditions in which business would thrive.
By making life expensive for bad debtors, she argues, the bond markets compel governments to spend money more wisely. Aid, meanwhile, since it keeps on coming, has precisely the opposite effect. "In my world of no aid, it is easier for citizens to hold governments accountable," she insists.
So what of the rock and Hollywood stars, who have appointed themselves advocates of making poverty history? She is withering: "Most Brits would be irritated if Michael Jackson started offering advice on how to resolve the credit crisis. Americans would be put out if Amy Winehouse went to tell them how to end the housing crisis. I don't see why Africans shouldn't be perturbed for the same reasons," she replies, exhibiting a feisty side that occasionally accompanies a chatty, self-assured style.
In her book, Moyo writes that in order to overturn state-aid dependency, Africans will need the gritty defiance of the unknown man pictured standing up to Chinese tanks in Tiananmen Square in 1989. But, she believes, that it will, ultimately, be in western countries, where governments are more sensitive to public opinion, that the battle will be won or lost.
As we debate the heftier points of her argument, another, pre-dessert round of amuse-gueules arrives – this time an assortment of mouth-watering dabs of sorbet and ice-cream.
Moyo says it is easy for the western media to paint a doomsday scenario – one which depicts Africans as helpless – to justify the delivery of yet more aid. I counter by saying that it is easy enough for reporters in many parts of Africa to find grim, "doomsday" realities.
Moyo, however, believes the failures associated with aid dependency in Africa are so acute that things could only get better if the whole system were dismantled. Thinking of Zimbabwe, Congo, Somalia and other failing states, I suggest there is tragic evidence that there is no such thing as a bottom to a crisis. Without external intervention to shift the dynamic, things often get worse.
And what of the World Bank, where Moyo once worked for two years, and the International Monetary Fund? Do they and other donors not deserve some credit for helping lay the foundations in some countries of recent growth? Yes, they do, she says, in terms of the reforms they have promoted but they have not been aggressive enough about phasing out aid. This might sound high-handed from someone who lives comfortably in London. But Moyo is not arrogant. She counts herself exceptionally lucky. When she was growing up as a young girl in Zambia her aspiration was to become a flight attendant. She never dreamed she would win the scholarships that took her to Harvard and Oxford, and then to Goldman Sachs. She mostly thanks her parents, who were among the first graduates at university in the Zambian capital Lusaka. They left Africa in search of further education in the early 1970s, when communications were rudimentary and leaving was a journey into the unknown. But when they could they hurried back to help build a future for their country.
"They are the true African pioneers, the generation of [Barack] Obama's dad. That was the 'yes, we can' time of Africa. But", she continues, "then suddenly it became 'no, we can't,'" referring to the turmoil and decline from which parts of Africa are still struggling to emerge.
We finish with a coffee. Moyo's book ends on an equally energising note, that of an African proverb: "The best time to plant a tree is 20 years ago. The second-best time is now."