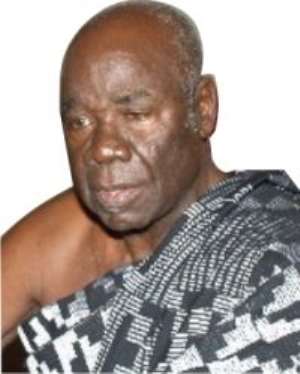 A stalwart of the opposition New Patriotic Party (NPP), Mr Akenten Appiah Menkah, has picked up nomination forms to represent the Ashanti Region on the Council of State.
Mr Menkah who is also chairman of the council of elders of the NPP is said to have picked the forms earlier this week, stressing it's time to "show maturity" and to "look at what will unite the country."
The Electoral Commission (EC) has announced it would conduct elections in February 10 for regional representatives of the council.
The Council of State, an appointment made by the President in consultation with Parliament, is mandated to counsel government on its policy options.
Mr Menkah, an award winning businessman, said his urge for a place on the council is grounded in a belief that he has "the right to give Ghanaians the right advice."
He was honoured by ECOWAS with the prestigious, "Living Legend of Africa Award, at its 2007 session held in Abuja, Nigeria.
Mr Menkah dismissed suggestions that his attachment to the NPP could influence the counsel he would be required to give the President.
He said dishing out the wrong advice would amount to derailing the progress of the country, a dreadful conduct he cannot be associated with.
Asked for his comments on whether the construction of the presidential palace partly caused the loss of the NPP lost in the last election, the business guru cited his book, The River in the Sea (yet to be published) as the best answer.
He however said it's time the country banished party political leanings to focus on nation-building.
Meanwhile another senior member of the NPP, Odoi Sykes says the decision of Mr Menkah presents an "ideal" test case of President Mills' promise of all-inclusiveness in his government.
Mr Sykes said although Mr Menkah belongs to an opposition party, his counsel to the President would place the good of the nation above his political convictions.
Story by Fiifi Koomson