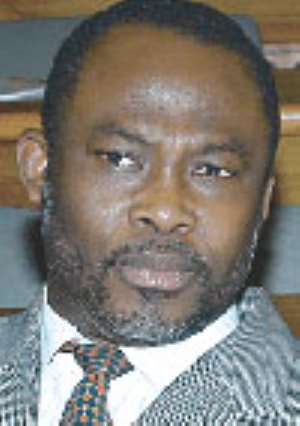 Dr. Ekow-Spio Garbrah, the CEO of the Commonwealth Telecommunications Organisation (CTO), says he did not lobby for any posts in the new National Democratic Congress (NDC) government of Prof. John Atta Mills.
Dr. Spio-Garbrah was reacting to speculations in the media that he is peeved with the Mills administration because he has not been offered any political position, presumably a ministerial one.
He was making the remarks on the Super Morning Show of Joy FM on the phone from South Africa, and was monitored by ghanabusinessnews.com Wednesday February 4, 2009.
Dr. Spio-Garbrah said even though, there may be others who might have lobbied for posts, he did not. "I did not lobby for a post or this post as you are asking me," he emphasized.
There are speculations that Dr. Spio-Garbrah is unhappy for being left out of the ministerial lists of the NDC administration. When he was asked if he was surprised that his name was left out of the list, Dr. Spio-Garbrah said, "well, surprise is a strong word. I am a very flexible man and I am also a God fearing man and I have always had the attitude that whatever God wants me to do is what I will do. So it's true that man may propose, but God dispose," adding, "and I don't think it is my name only that is not on the list."
Dr. Spio-Garbrah went on to cite the constitutional requirements for appointing the majority of ministers from Parliament, which in his case limits the number of people that the President can appoint.
"To be fair to the President," he said, "he has a lot of restrictions; he is required by the constitution to appoint no more than 19 cabinet ministers or no less than 10 and majority of whom must come from Parliament."
Dr. Spio-Garbrah sounding religious and philosophical said, "if you look at the five million people who voted for the NDC, the over 100,000 or so who may consider themselves NDC activists, the 114 NDC Members of Parliament and the individuals who by virtue of their experience and expertise of being former ministers would expect to be appointed as ministers. There are a lot of people, who reasonably would have wished to be appointed, but many are called but few are chosen."
He said, "if I am not appointed a minister, I have not taken it personally as a kind of affront." Dr. Spio-Garbrah said he recognizes the concerns of the rank and file of the party who say that some people they never saw on the campaign trail, never gave a single interview, never appeared on any NDC platform but have been appointed as ministers. He said this is the part that is bothering some people.
Dr. Spio-Garbrah who said he has made contributions to the party, by raising lots of money and printing T-shirts to help the party win the 2008 elections, he is not bitter.
Dr. Spio-Garbrah recounted the year 2000 when the NDC lost to the NDC. He said in those days nobody wanted to be associated with the party, saying "failure is an orphan and success has many fathers." He said now that the NDC is in power many showing up to associate with the party.
He also said he has not been offered any job by Prof. Mills which he has declined.
Dr. Spio-Garbrah contested against Prof. Mills in the NDC primaries in a campaign that some perceived to be bitter and hotly contested.
By Emmanuel K. Dogbevi