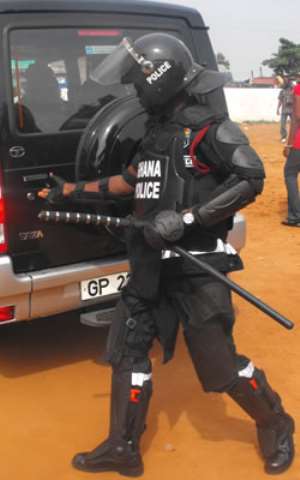 The Police in Accra have mounted a search for three marauding young men suspected to be stoking the fires in the Agbogbloshie clashes.
The three, led by one Mohammed Ayatu, are said to be ring leaders of a group which is fueling the conflict in the slum.
The search for the leaders has been precipitated by renewed clashes on Monday which left two people seriously injured and seven houses destroyed.
Police chief Ebenezer Asare told Joy News supporters of the NDC and NPP who clashed during the elections last year were the people involved in yesterday's disturbances.
He believes the underlying cause of the clash is the chieftaincy dispute in Dagbon as all the culprits were Dagombas.
According to him, everything possible will be done to arrest the itinerant Ayatu who had been boasting the police cannot do anything to him because "their government is in power".
One of the victims, Alhassan Fuseini told Joy News' Sammy Darko who visited the area about 50 people mobilized and attacked with dangerous weapons.
He was grateful to God that they did not shoot him as some of the attackers were wielding guns.
Fuseini claimed his younger brother was also attacked in the process by the group.
Sammy Darko said about 60 wooden structures serving as residences for some of the victims were razed down in the attack.
He reported that the NPP office in Agbogbloshie was also partly damaged.
Story by Malik Abass Daabu