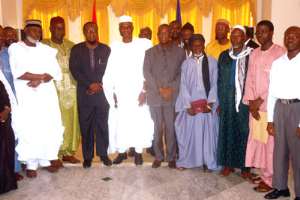 President Atta Mills with members of COMOG The President, Professor John Evans Atta Mills, yesterday re-affirmed his commitment that he will be President for all Ghanaians. And will not encourage or promote polarisation in the country because 'we are all one people with a common goal.'
President Mills however said, 'I will not condone wrong doing. The law must always take its cause for justice to prevail. We must all live within the confines of the law, I will not burn the rules against anybody and therefore we must ensure that there is no selective justice.'
The President made these remarks when a 17member delegation of Coalition of Muslims Association of Ghana (COMOG), led by Major retired Alhaji Mohammed Easah, yesterday called on him at the Castle Osu, in Accra.
Professor Atta Mills said Government is committed in fulfilling its promises it made during the electioneering campaign, adding, 'it is the government desire to improve the condition of the people at all level.'
President John Atta Mills was of the view that the issue of drug trafficking and corruption are challenges confronting the country and the government will do all it can to curb the menace.
On his part, Alhaji Mohammed Easah, Chairman of COMOG, appealed to the President to ensure that his policy of no vendetta and justice to all must reach all concerns of Ghana and cover all Ghanaians in order to sustain and consolidate the nation's enviable peace.
He however cautioned, that 'nothing should be done to the prejudice of the principles of accountability, transparency and the rule of law.'
The Chairman observed that polarisation in the society, indiscipline, corruption, armed robbery as well as drug trafficking are issues that ought to be trampled. Not only inimical to the health of the nation he said, but also capable of undermining the unity, dignity, pride economic development and peace in the country.