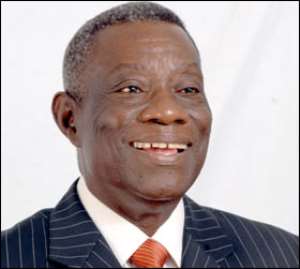 President John Evans Atta Mills President Mills' administration has been urged to collaborate with farmers to design and implement agric-based projects that will reduce poverty and create employment for the youth.
President of the National Farmers and Fishermen Award Winners Association of Ghana (NFFAWAG), Philip Abayori who made the call, in an interview with this paper said his outfit wants to partner the Ministry of Agriculture by way of offering it advice or consultancy on information dissemination and practical implementation of government's agric policy.
He called on the new government to institute a fund that would provide the needed support to agric award winners to boost and sustain their operations after they have been awarded.
"The government must establish an agricultural fund just like GETFUND and EDIF to accelerate agric development in Ghana," he said.
While urging the government to strike a compromise with financial institutions to allocate 20 per cent of their investments to the agric sector, the NFFAWAG President also appealed to the Mills administration to create a form of guarantee or tax exemption for institutions that lend to the agric sector.
A provision of irrigation facilities such as bole-holes and small dug-outs to enable farmers irrigate their farms during dry season is another thing that the farmers expect from the new government. This, Mr Abayori believes, will increase productivity and help modernize farming institutions.
He further appealed to the government to ensure that premix fuel becomes available in every filling station across the country especially in the coastal areas.  He said licences of pair trawlers should be revoked and those involved prosecuted, urging government to set up a buffer zone in the sea and make it a policy to prohibit fishers from fishing there.
The NFFAWAG President in addition called for the creation of a commodity trading exchange to stabilize agro-produce prices, suggesting that the youth in agriculture programme and Ghana Food and Distribution Corporation's warehouses and installations be handed-over to his outfit to manage in order to ensure food security and help stabilize food prices.  
"When this happens, farmers will get benefits for their produce and the average worker can also afford to purchase," he explained.
Mr Abayori said NFFAWAG further wants full support from the NDC Government to enable its team undertake massive maize, rice, soya beans and poultry production projects throughout the country to reduce food imports.
The association requested that the Mills' administration revamps collapsed agricultural related industries such as Nasia Rice Mills, Best Fibre for Jute Factory and GFDC among others, to create job and reduce dependency on cheap imports.
He strongly suggested that prices of fertilizers be reduced significantly.  
Last year, the price of NPK fertilizer and Sulphate Ammonium fertilizer was GH¢26 and GH¢18 respectively.  Dealers in these fertilizers attributed the high cost of these fertilizers to the high cost of crude oil in the world market which was then sold at $140 per barrel.
"Now that the price of the commodity has been reduced drastically from $140 to about $43 per barrel, one expects that the prices of the afore-mentioned fertilizers will also come down but this is not the case," he noted.  
"It will saddened one to note that the prices of NPK fertilizer and Sulphate Ammonium fertilizer had rather shot up to GH¢52 and GH¢38 respectively. This is not fair to farmers," Mr Abayori lamented.
NFFAWAG also suggested a full review of the President's Special Initiative (PSI) projects by implementing a policy that will allow farmers to own 30 percent share in those initiatives.
Meanwhile, a source in the NDC Government said the demand from the farmers was in line with the agric policies the new government has outlined in its manifesto, adding that the Mills' administration would have no problem meeting the expectations of the farmers.
The NDC said in its manifesto that it will equip and enable the 40,000 or so agric award winners in the country to become extension officers so that they can train small-scale farmers within their localities with the aim of transforming subsistence farming into commercial one.
The manifesto said the NDC will incorporate agricultural education at all levels of formal and informal education and also set up a Buffer Stock Management Agency.  The agency, the manifesto noted, shall have the responsibility of holding food security buffer stock and intervening in the market to ensure competitive prices to farmers in times of glut.
The new administration in its manifesto further assured that business services such as access to credit would be provided for the setting up of the Ghana Commodities Exchange.
NDC pledged to support large-scale cultivation of maize and soya-beans to reduce the cost of feed which accounts for about 70 percent of the cost of poultry production.  In addition, the government is also to use both tariff and non-tariff barriers to give local poultry production a competitive edge over cheap imports.
On fisheries, the Mills' administration vowed to prohibit the use of unorthodox fishing methods currently used by some foreign fishing trawlers and also enforce the ban on the use of light and explosives for fishing. 
A Fisheries College is to be established by the government to train extension officers to assist artisanal fishermen to adopt modern fishing practices.    
With regard to non-traditional agricultural exports, NDC said sheanuts, dawadawa and cotton would be given special attention.  Rehabilitation of existing irrigation scheme and construction of additional ones is another flagship project to be undertaken by the NDC Government.
By Felix Dela Klutse