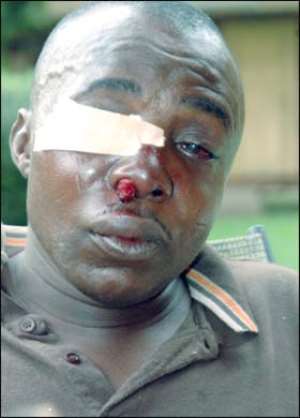 Alhassan Husseni MACHETE AND gun-wielding fanatics of the National Democratic Congress (NDC) yesterday stormed the Kokomba Market in Accra, burst the right eye of  the New Patriotic Party (NPP) organiser for the area and knifed several other members of the opposition party.
Apparently, it was the same group which about three weeks ago, butchered to death one Suleman, also a member of the NPP in the area.
Alhassan Husseni, the elder brother of the deceased, was yesterday butchered and his right eye scooped out of its socket by the very group that was suspected to have killed Suleman.
The attackers, in broad daylight yesterday, freely fired gun-shots into the air and reportedly ordered members of the NPP to leave the area in their own interest. And true to their words, NPP members who remained adamant were knifed and chased out as blood oozed out of their weak bodies.
Over the weekend, a number of NPP members in the area made several SOS calls indicating that their houses and shops were being set ablaze by the NDC fanatics and that their continuous stay in the area was unsafe.
A number of yesterday's victims were treated and discharged while some are still on admission at the Korle Bu Teaching Hospital.
Alhassan Husseni, when he called at the offices of DAILY GUIDE yesterday, was full of tears and had blood all over his body.
In an interview, he said he gained consciousness at the hospital but remembered that the attackers had indicated that they wanted to show the NPP that the NDC had won political power.
Alhassan said when the gunshots started and people fled for their dear lives, he saw no reason to run because he had committed no crime and moreover he was still mourning his late brother.
He disclosed that though the attacks on the NPP members actually started on Saturday, it was after returning from the Committee for Joint Action (CJA's) demonstration yesterday that the group started to order all NPP members to leave the area.
He alleged that the killers of his brother have neither been arrested nor tried and that the persons suspected to be responsible for the act are still freely assaulting other people all over again.
Indeed a number of NPP members who reside in the area told DAILY GUIDE that they no longer have confidence in the Police and would rather start protecting themselves.
They alleged that officials of the Old Fadama Police Post in the area are themselves scared of the attackers.
Some of the victims, not knowing what to do, called on Madam Frances Assiam who ensured that they were given medical forms at the James Town Police Station.
She subsequently followed up to the Korle-Bu Teaching Hospital and footed part of the medical bills.
By Halifax Ansah-Addo