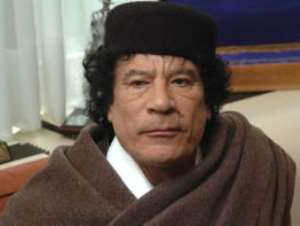 African leaders meeting in Ethiopia have failed to reach a consensus on a proposal by Libyan leader Muammar Gaddafi for a United States of Africa.
Col Gaddafi had used his inaugural address as head of the African Union to push his long-held unity project.
But many leaders said the proposal would add layer of bureaucracy that the continent does not need.
African leaders did reach a consensus, however, on changing the name of the union to "authority".
They also said they would study the legal implications of the unity proposal, make a report and meet again.
The BBC's Mark Doyle in the Ethiopian capital, Addis Ababa, says the outcome is a fudge.
The Libyan leader had said closer integration between African states should start immediately.
But other African head of state said that this was not practical.
One of the participants in closed-door meeting of the 53-country union said the Libyan leader appeared to admit defeat and laid his head on the table in despair.
But Col Gadaffi is the head of an oil-rich state on a poor continent and no-one wants to make him too angry, our correspondent says.
Leaving the talks at about 0300 local time, Senegal's President Abdoulaye Wade said leaders had had a "very rich" discussion that they would resume later on Wednesday morning.