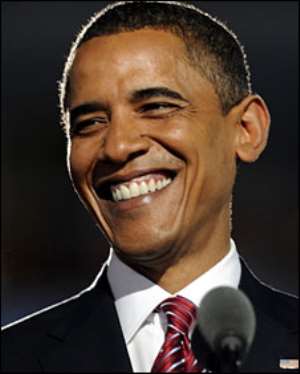 US President Barack Obama has said "I screwed up" over his handling of a controversy that led two politicians to decline posts in his administration.
Tom Daschle was to become the new secretary of health, and Nancy Killefer was Mr Obama's choice to oversee budget and spending reform.
They both withdrew when questions were raised about their tax affairs.
The president said he was taking full responsibility and promised it wouldn't happen again.
But the BBC Washington correspondent says the growing number of Mr Obama's nominees facing tax problems appears to be undermining his calls for a new era of responsibility.
Distraction fears
Former Senator Tom Daschle withdrew his nomination on Tuesday, after it was revealed last week that Mr Daschle, an early Obama backer, had failed to pay some $130,000 in taxes.
He said he would have not been able to operate "with the full faith of Congress and the American people".
He also said he did not want to "be a distraction" from Mr Obama's agenda.
The president said he had accepted his nominee's withdrawal "with sadness and regret".
Mr Daschle's move came only hours after Nancy Killefer, nominated as budget watchdog, also withdrew over tax issues.
Ms Killefer said she did not want a personal tax issue -reportedly concerning household help - to delay Mr Obama's plans.
Her appointment to the newly-created post of chief performance officer was intended to help cut wasteful government spending.
'Setting an example'
In a statement, Mr Obama said: "Tom has made a mistake, which he has openly acknowledged. He has not excused it, nor do I."
The president went on: "Now we must move forward with our plan to lift this economy and put people back to work."
But in a series of TV interviews, Mr Obama said he regretted the way he had handled the case.
"I've got to own up to my mistake which is that ultimately it's important for this administration to send a message that there aren't two sets of rules," he told NBC news.
"You know, one for prominent people and one for ordinary folks who have to pay their taxes."
"I think I screwed up," he told CNN. "And, you know, I take responsibility for it and we're going to make sure we fix it so it doesn't happen again."
Car and driver
White House press secretary Robert Gibbs said both nominees had come to the decision to withdraw on their own.
"They both recognised that you can't set an example of responsibility but accept a different standard of who serves," Mr Gibbs said.
Massachusetts Senator John Kerry said Mr Daschle's withdrawal was a great loss to the cause of health care reform.
"When the smoke clears and the frenzy has ended, no-one will believe that this unwitting mistake should have erased 30 years of selfless public service and remarkable skill and legislative expertise on health care," he said.
Mr Daschle paid about $128,000 in back taxes and $12,000 in interest last month.
Appearing before the Senate Finance Committee on Monday, he apologised for what he said had been a mistake. The tax issue stemmed from the use of a car and driver provided to him by a friend and consulting client.
The BBC's James Coomarasamy in Washington says Mr Obama has been facing growing criticism over the contradiction between his pledge to create a new, ethical administration and the problems of his nominees.
US Treasury Secretary Timothy Geithner was confirmed last week only after long arguments over his failure to pay $34,000 (£24,500) in taxes he owed until shortly before he was nominated.
In January, New Mexico Governor Bill Richardson announced he was withdrawing from consideration as commerce secretary after an investigation was launched into a state contract that had been given to his campaign donors.
Republican Senator Judd Gregg was on Tuesday nominated instead, the second from his party to be asked to join Mr Obama's cabinet.