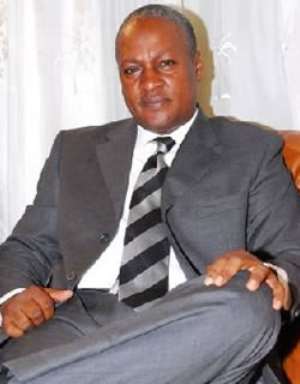 The World Bank (WB) and International Monetary Fund (IMF), have pledged their support to the ruling National Democratic Congress (NDC) to strengthen the economy to ensure micro stability.
Officials of the two institutions attending the on-going 12th Ordinary Session of African Union (AU) Assembly of Heads of State and Government, gave the assurance during a meeting with Vice President John Dramani Mahama, who led Ghana's delegation to the summit.
It is under the theme: "Infrastructure Development in Africa".
They pledged to focus their assistance on development projects that would be prioritised by the government, while IMF in addition, was interested in fiscal policies of the NDC.
Mr Mahama told journalists that the IMF mission in Ghana would meet with the government economic team in Accra, to boost the health of the economy.
He said Ghana was enjoying a lot of international support due to the country's constitutional governance.
Mr Mahama interacted with some Heads of State from the AU, who congratulated President John Evans Atta Mills for his election and the smooth transition in the country.
He said Government would not victimise any public official who served in the NPP administration, except those found culpable.
This he said, was in line with a convention President Mills wanted to establish to guide the country's transitional period.
Mr Mahama said Government was determined to reform the revenue sector of the economy through interventions like the introduction of Information, Communication and Technology to eliminate waste and leakages.
He said 40 per cent of the national budget went to waste due to mismanagement of national resources and lack of value for money.
Mr Mahama said Ghana had received assurance from bilateral institutions to improve on the tax net.
He said a government delegation from China promised to offer five million dollars to support any programme of her choice.
The US has also pledged technical assistance to the Ghana Army to promote peacekeeping in Darfur as part of a bilateral collaboration in foreign policy issues.
Mr Mahama at a meeting with an Iranian delegation, called on the Islamic state to use their expertise in the oil industry to train Ghanaians to manage Ghana's oil find.
He also appealed for support in the agricultural sector.
Mr Mahama was optimistic that the proposed Savannah Accelerated Authority being proposed by Government, would help turn the fortunes of the North around and eliminate poverty.
He described the appointment of Libyan Leader, Muammar Gaddafi as Chairman of AU as appropriate, since the mandate fell on North Africa.
Meanwhile Mr Mahama, had toured the proposed site for the construction of a Chancery for Ghana's permanent mission in Ethiopia and pledged to ensure the project was implemented.