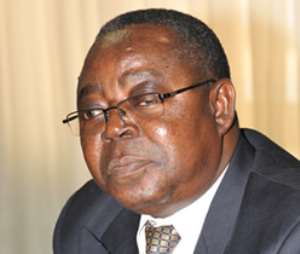 Mr. Tony Fofie - Cocobod CEO
Ghana, the world's second-largest cocoa producer, bought 5.9 percent fewer beans from farmers by the 19th week of this year's main crop harvest, Ghana Cocoa Board Chief Executive Officer Tony Fofie said.
Purchases amounted to about 400,000 metric tons in the period, though the crop is "picking up a little bit" before mid-season rains, Fofie said in a telephone interview today from the capital, Accra. He didn't provide a reason for the decline, which he estimated at about 30,000 tons from a year earlier.
"It is getting closer to what we actually expected compared to this time last year," he said.
Ghana's annual cocoa harvest, which is produced mainly by small-scale farmers in the rural center of the country, may rise to about 700,000 tons this season, from 680,000 tons a year earlier, the Cocoa Research Institute of Ghana said in October.
The cocoa board, known as Cocobod, officially opened this season's harvest on Sept. 12, more than a month ahead of the previous year's mid-October opening. The harvest usually ends in June.
While rain has started coming, "it isn't sufficient yet," said 54-year-old farmer Gordon Minta on his four-acre farm at Krodada, in Ghana's Western region, about 90 kilometers from Kumasi. "Last year was better than this year."
Harmattan Winds
Ghana's central growing region is emerging from the annual harmattan, when dry winds in December and January bring hot weather and little to no rainfall. If the rains come, the harvest will be good, Minta said. "But if it stops in the middle you'll get small beans."
Insects and disease also threaten the cocoa crop, said 26-year old Bio Jackson, from the Western region village of Dormibo. While the cocoa board has provided fungicide to prevent the spread of black pod disease, more is still needed, he said.
In the Ashanti region village of Anwifutu, 24-year-old Okey Adade balances farming a five acre plot with weaving kente, a traditional Ghanaian cloth, to sell in Kumasi.
"This year is not good," Adade said. He doesn't expect to match the 24 bags of cocoa he produced last year."When it's dry season, the insects are worrying us," he said. "When it rains, it can help."
Source: Bloomberg