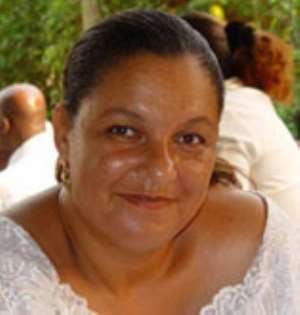 Hannah Tetteh threatens court action against AFAG
Trade and Industry Minister-designate, Ms Hannah Tetteh, has threatened court action against a group calling itself the Alliance for Accountable Governance (AFAG).
The group at a press conference in Accra on Tuesday alleged Ms Tetteh flouted the rules of Parliament by serving as legal adviser to the Ghana Agro Food Company (GAFCO) while she was MP for Awutu-Senya between 2001 and 2005.
The group described the conduct of the minister-designate as "flagrantly unconstitutional and highly dishonourable," making her unfit for a ministerial appointment.
In an interview with Citi News, a leading member of AFAG, Godfred Dame, claimed Ms Tetteh had been working for both institutions without express permission from Parliament, an assertion the Minister-designate has vehemently rejected.
According to the group, the national constitution provides that a Member of Parliament shall not hold any office of profit or emolument, whether private or public, and believes that the Trade and Industry Minister-designate has not respected the provision.
In a sharp rebuttal, Hannah Tetteh said the Privileges Committee of Parliament agreed to her situation and described the claims by the group as rather malicious.
She said she takes the allegation seriously and would head for court after her vetting.
"While the vetting process is over, I think I have every right to proceed against them...I mean I can take them to court for defaming me, for creating the impression that as a Member of Parliament I did something illegal...," she stated.
According to her, the group would have better informed the public if it had contacted her on the matter.
Asked how serious she was about her court threat, Ms Tetteh said "I still have my documentation; I am in the position to proceed against them."
Story by Fiifi Koomson