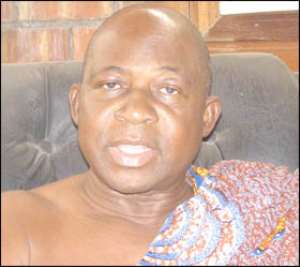 Osabarima Asiedu Okoo Ababio III THE OMANHENE of Akuapem Guan Traditional Area, Osabarima Asiedu Okoo Ababio III, has stressed the need for the local government system to be maintained so that development at the grassroots level could be accelerated without political interference.
Osabarima Ababio noted that the seeming politics in the operations of the district assembly system was seriously undermining development at the district level and in the rural areas, and stated that the time had come for people at the district assemblies to know that development in the rural areas depended very much on them.
The Omanhene made the observation in an interview with DAILY GUIDE.
Osabarima Asiedu Ababio requested the current government to appoint level-headed representatives at the district assemblies or as District Chief Executives (DCEs) to ensure development in the rural areas.
"I want the President to appoint DCEs who will not waste their time fighting their Members of Parliament who are either in opposition or in government over Common Fund so that the people at the grassroots will not suffer unduly in terms of release of funds for developmental projects," he averred.
He told DAILY GUIDE that some district assemblies have refused to form town councils in some towns so the assemblies had forfeited the 30 percent of revenue collected from those towns.
He reminded representatives at the district assemblies that they were put there to pursue the interests of the people at the grassroots, and not because of politics.
The Omanhene asked the assemblies to use the Information Service Department (ISD) vans effectively to educate people constantly in the rural areas about government policies and also about health issues.
"We need to let our people understand and appreciate very well policies introduced by the government to bring some relief to the people," he indicated.
Commenting on priority areas for people in the rural areas, the Chief said he believes education and health must be areas every Tom, Dick and Harry should be concerned about.
He mentioned that he was finding ways to raise the falling standards of education at Larteh in the Akuapem North district, adding that through his initiative, a prominent native, Lawyer Kweku Ahinsah together with some high profile personalities such as Prof Ekow Daniels, V.C.R.A.C Crabbe and Mr B.J. da Rocha is establishing a university at Larteh which would be known as Mount Crest University.
According to the Chief, the establishment of the university at Larteh would definitely encourage school children in the town to learn very hard and enter the university to secure a good future.
He said the university would also help open up the town and boost the local economy.
From Thomas Fosu Jnr, Lartey-Akuapem