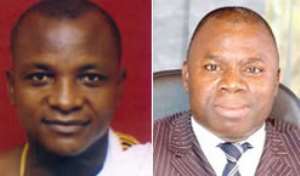 Togbe Afede (left) Mr. Andani (right)
The Business & Financial Times (B&FT) newspaper has published in a front page story in its Monday February 2, 2009, edition that President John Atta Mills is seriously considering the appointment of Togbe Afede XIV as the Governor of the Bank of Ghana.
In Ghana, times such as these, especially where there is a political lull as there is in this transitional period, are times that are rife for speculations and the media loses no opportunity to indulge in it.
Ghanabusinessnews.com sources at the Finance Ministry and the Presidency would not confirm or deny the speculation, however.
The newspaper quoting sources at the Presidency also mentioned possible names such as Mr. Alhassan Andani, a seasoned banker and Managing Director of Stanbic Bank Ghana Limited, and Paa Kwesi Amissah-Arthur, a renowned economist who was a Deputy Minister of Finance and Economic Planning, are also being considered by the President for the position.
Togbe Afede XIV, who is currently the President's representative at the Ministry of Finance, is also the Chief Executive of the SAS Group.
The current Governor, Dr Paul Acquah, is taking his leave which is accumulated over almost eight years, and he is not expected to return to his post, according to the newspaper.
The newspaper then listed the credentials and achievements of the two men, Togbe Afede and Mr. Andani.
Togbe holds a Master of Business Administration (MBA) degree from Yale University in the USA and BSc Administration (Accounting) degree from the University of Ghana, Legon. He accepted an appointment as a lecturer at the School of Administration, University of Ghana, in 1990. He taught Financial Accounting (BSc Programme) and Accounting Theory (MBA Programme) until 1994.
While he was teaching at the university, Togbe co-founded Databank Financial Services Ltd, an investment banking firm. He left Databank in 1993 and founded another investment banking firm, Strategic African Securities Ltd. in 1994.
Togbe is currently the CEO of Strategic Initiatives Ltd., a private equity and portfolio investment firm. Togbe is a member of the Boards of Directors of Aluworks Ltd., Bank of Ghana, National Theatre of Ghana, and Sikaman Savings and Loans Ltd. He is also the chairman of Pioneer Aluminium Factory Ltd. and a trustee of Volta Forum Trust Ltd, a non-profit organisation.
Mr. Alhassan Andani, a reputed banker and team leader in the banking industry, is a product of the University of Ghana, Legon, and a former Deputy Managing Director of Barclays Bank of Ghana.
Between 2003 and 2007, under his watch Stanbic achieved the industry's biggest growth for market shares of deposits (2.9%), net advances (3.9%), operating and total assets (about 3%), and pre-tax profits (4.5%).
The bank moved up five places on the industry's operating assets league-table to become a second quartile bank. In 2003, Stanbic was a third quartile bank. Indeed, it is remarkable how the bank has moved from its 1998 position at the bottom of a league of 15 banks as a fourth quartile bank to its current position within the industry.
Among his achievements, Andani was a pillar in the build-up of elevating the Barclays Bank from the fifth position in terms of assets and profitability in 1999 to first position in 2003.
He also authored a Best Practice Manual on Structured Trade Transactions in addition to leading Barclays' syndication team that won a sole mandate to arrange US$220 million pre-export finance facility for the Ghana Cocoa Board in 1997/­98 for four consecutive years.
He also structured a US$55 million term loan for Ghana to support the UN Peace Keeping Operations of the Ghana Armed Forces, and a further US$60 million term loan for Ghana Telecom to finance network expansion among others
According to the B&FT, the terms of reference of the new Governor will be to lead the Central Bank to pursue sound monetary and financial policies aimed at price stability, and create an enabling environment for sustainable economic growth.
Whoever is appointed Governor, he would have to roll up his sleeves and get into the trenches to help fix an economy that is not in the best of shape, the newspaper suggested.
Last week, the Minister of Finance-designate, Dr. Kwabena Duffuor, who himself is a former Governor of the Central Bank, moved to calm market nerves. He dismissed suggestions in some quarters of government to the effect that the country is broke.
The country is facing temporarily difficult challenges that could and must be resolved.
The biggest problem facing the country is the fact that it lives beyond its means, he said, stressing the need for waste­ cutting.
The Mills administration says the 2008 budget deficit will be 13.4 percent of GDP, the highest in 10years.
The government's debt burden was more than 50 percent of gross domestic product.
It was once more than 100 percent, but the present level is well above a recent low of 37 percent after Ghana received debt-relief from international lenders.
Fitch senior director on the London-based sovereign's team, Paul Rawkins, told Rueters: "If it keeps going this way they will lose all the benefits they got from debt­ relief. If it got towards 70 percent, that would certainly be bad news."
The country's economy has been a subject of intense debate and to some extent recriminations among some politicians and economists, since the Mills's government came into power.
While it is true that Governors of Central Banks play significant roles in managing a country's economy, it is not often the case in Ghana. In Ghana, political decisions, irrespective of the short to long term impact on the nation take precedence over good professional judgement.
Therefore, it would be hard to tell how either of the two men being speculated to become the next governor, despite their academic and professional qualifications and experience could bring much relief to the country, more so in the face of a crushing global financial meltdown and persistent food and energy crises.
By Emmanuel K. Dogbevi