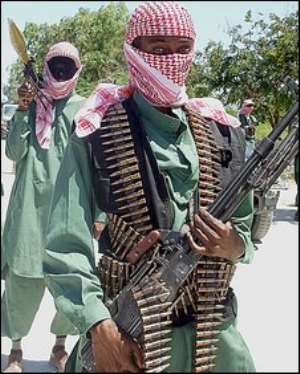 Somalia's Islamist group, al-Shabab, has taken over the city of Baidoa, one of the last strongholds of the transitional government and the seat of parliament.
They say they will introduce Sharia law in the city.
Marian Zeila, chairperson of the Somali Media Women's Association, based in the city, give her views on the takeover.
I'm concerned that the al-Shabab militants will prevent me from carrying out the work I do here in Baidoa - fighting gender-based violence.
The fact that al-Shabab are bringing in Sharia law doesn't really worry me.
Sharia law is a part of Islam, it's in the Koran. But it's their interpretation of the law that I disagree with.
They are turning Islam into a harsh religion, which I don't believe it actually is.
My organisation is trying to empower women who suffer domestic violence - and I don't think al-Shabbab will like us encouraging women to speak out.
I am not angry with them yet, but I do wonder what effect their presence will have on the women of Baidoa.
From talking to other women, it's my impression that civil society groups here are not happy with al-Shabab.
I haven't been to work since al-Shabab took over Baidoa.
Everything seems calm at the moment, but I plan to stay at home for another four days until I can be sure that it's safe to go to work.
I did go out briefly today to the centre of town to do some shopping.
I would say that today the atmosphere in Baidoa is relatively good - I saw women and children out in the streets, they were walking around freely.
I am not afraid of al-Shabab and I don't think people in Baidoa fear them.
Wait and see
I saw members of al-Shabab around town carrying guns today. They look incredibly young.
I know that they have encouraged teenagers in Baidoa to join their movement, but they are not forcing anyone.
People working for the transitional government in Baidoa are staying indoors.
Al-Shabab have promised they will not harm them, but it remains to be seen whether this is the case.
While the transitional government was in charge there was insecurity in Baidoa, they were unable to protect civilians.
At least the al-Shabab have restored stability - for the time being.
I am 23 and I got married just one month ago.
If things stay calm in Baidoa, my husband and I will stay here. But we want to wait and see how this goes. Nobody knows what al-Shabab are planning to do."