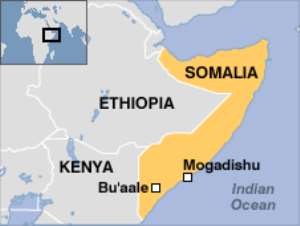 Regional officials in Somalia have accused African Union (AU) peacekeepers of opening fire on civilians in the capital, Mogadishu, killing 18 people.
The incident happened after an AU vehicle was hit by a roadside bomb, killing three civilians.
An AU spokesman confirmed that their convoy had been targeted in a bomb attack, but denied that his soldiers had opened fire on civilians.
Militants have targeted AU forces since Ethiopian troops pulled out last month.
But officials have given very different accounts of the latest deadly incident.
Police commander Yusuf Dhumal told AFP news agency he had counted 18 dead civilians.
"This is a tragedy. What happened this afternoon indicates a complete irresponsibility and it will not be tolerated," he said.
Mogadishu's deputy mayor, Abdi Fatah Ibrahim Shaweh, told the BBC the soldiers had killed 36 people.
He said most of the dead were civilians who had been sitting on buses when the troops opened fire.
Allegations denied
But Major Bahuko Baridgye, spokesman for the AU forces, denied the allegations.
"Our forces did not open fire on people," AFP quoted him as saying.
"The information we got indicates that three civilians died in the explosion and one of our soldiers was lightly injured. The vehicle was also slightly damaged."
The incident comes just days after moderate Islamist leader Sheikh Sharif Ahmed was elected Somalia's new president.
Somalia has not had a functioning central government since 1991, and the northern regions of Somaliland and Puntland have broken away to govern themselves.
Tens of thousands of people have been killed in successive waves of violence.