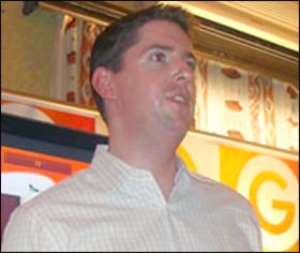 Julian McIntyre - GBS President Gateway Broadcasting Services (GBS) subscribers in Ghana have threatened to stage a demonstration in Accra to protest against what they described as unfair treatment meted out to them by operators of the pay TV.
Beatwaves learnt that the subscribers who claimed they have already paid their subscription fees as well as the monthly charges have instructed their lawyers to institute legal action against the company.
Beatwaves investigation also revealed that the subscribers since last Friday have not been able to trace the management of GBS as the company's offices located off the Spintex road had been closed down.
Reports also indicate that a large number of Ghanaian subscribers were faced with dark television screens last Friday evening as GBS terminated its services across the continent without any formal notice to its subscribers, who had paid huge sums of money to get connected.
Ghana was doing well with an increase in the number of subscribers. Now all customers sit with unproductive satellite dishes and decoders in their homes and offices.
The company, which was expected to give DStv, operator of MultiChoice a run for its money in markets across Africa, suspended its services at the weekend leaving behind millions of angry subscribers and jobless people across 22 African countries.
The company has gone into liquidation and has thus withdrawn all its services effective Friday January 30, 2009.
GTV came to Africa in 2007, starting with Kenya, then Namibia, and ending with Ghana, attracting a growing following, thanks to the beaming of live English premiership football games.
GBS says its board of directors has unanimously approved a plan to liquidate the company.
GBS in the past two years invested over US$200m in the GTV service, which was broadcast to 22 countries across Africa.
The pay-TV operator had bought the rights to 80 percent of English Premier League football games, a firm favourite among African audiences and secured about 100,000 subscribers.
GTV had the rights to broadcast the English Premier League in Africa for three years ending in 2010.
GBS president, Julian McIntyre, whose absence has not helped the reputation of the company and has left a bad taste in the mouth of the people of the African continent, is yet to make an official statement.
GTV had sponsorship deals with various soccer clubs, premierships and beer brands in Africa, all of which are now left in the dark.
By George Clifford Owusu