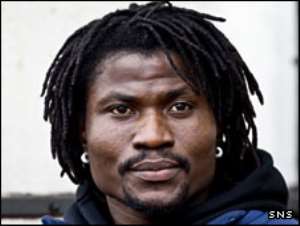 Kingston stays with Hearts Ghana midfielder Laryea Kingston will remain on the books at Scottish club Hearts at least until the end of the season.
The Black Stars enforcer had been the subject of varying degrees of interest, and Hearts had been keen to get Kingston off the wage bill.
 
Bolton and Stoke City were reported to be keen on signing the Ghanaian but recent injuries have dissuaded the English club from taking the player.
 
With the transfer window coming to a close last night, Kingston remained with his club.
 
On Saturday, however, once it was clear the Berra deal was going through, club owner Vladimir Romanov said there was no plan to sell anyone else before the window closed.
 
Yesterday he was proven true to his word.
As well as holding on to Kingston and Driver, Hearts at last completed the signing of goalkeeper Janos Balogh, who has been on loan from Hungarian club Debrecen since the start of the season.
For more Ghana football news visit www.ghanasoccernet.com