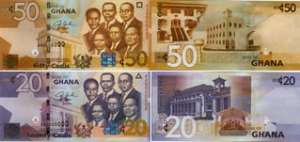 The issue of the payment of Public Sector salaries based on a single-spine structure effective, January 2009 had been on the lips of the previous New Patriotic Party (NPP) government as it went into last December's elections.
That government might have perhaps settled on that date for implementing the new salary scheme for good reasons, which might also include using it as bait to gaining electoral advantage among Public Servants, who naturally were anxious to see the scheme come on stream.
Indeed many Public Servants might have lost every hope and at best saw a slim possibility of the incoming government of the National Democratic Congress (NDC) implementing the new salary scheme following the electoral defeat of NPP.
A great surprise it was then when outgoing President John Agyekum Kufuor announced authoritatively at the eleventh hour of his exit that Public Sector Workers should expect their January 2009 salaries to be paid based on the single-spine salary structure.
Strangely enough the expected beneficiaries of the scheme received the news with a large dose of scepticism. The ambivalence of the Civil Servants Association of Ghana with regard to the new scheme did not help matters.
It must be said, however, that the scheme was not something out of the blue. The NPP administration did its homework well with regard to the scheme and it would be wrong for anybody to portray it as such.
A number of institutions, including the Ghana News Agency were made to contribute staff to constitute a taskforce that toured the whole country to collect data for the consultant, who worked on the scheme. It was these data that were collated and processed to arrive at the decision.
In fact the NPP government factored it into the provisional estimates for the first quarter of 2009. Anthony Akoto Osei, Former Minister of State at the Ministry of Finance, had made it clear that the announcement was made at the eleventh hour because the Cabinet could not meet, as many of the members were out campaigning.
The National Democratic Congress government is, however, yet to make its position public on this sensitive subject matter. Whatever it would say would be crucial in determining the direction in which organized labour might decide to proceed.
But at least for those public sector workers, who have benefited from some levels of enhanced salaries arising from salary rationalization in the public sector, the present situation might not be so worrying.
But for the others, whose institutions are yet to benefit from such salary rationalization and have been putting their hopes on the single-spine, the situation is very unpleasant and something needs to be done pronto.
If the NDC government implements the scheme it would be seen as being sensitive and magnanimous in continuing with the process of salary rationalization through the mechanism of the Fair Wages Commission in fairness to the workers, who have not benefited from the salary rationalisation scheme.
Credit: Wilhelm Gaitu [GNA]