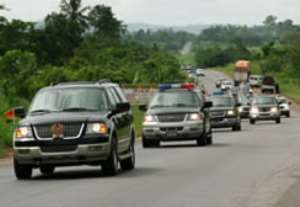 An official of Fairlop Ghana Ltd the sole Jaguar distributor in the country has warned of an intense resistance if security personnel raid his company without search warrant.
Mr. Eric Agyemang said the unannounced visits by the security is nauseating and must be halted
The Security Personnel as part of transition arrangements has made five visits to the company in what they refer to as verification checks.
But Mr. Agyemang told Joy News the visits have become one-too-many, and advised officials of the transition team to proceed to court if they are convinced he has engaged in any untoward business.
He lamented he has the right as a Ghanaian to engage in legal business and would not want to be dragged into politics.
Fairlop Ghana Ltd supplied the Ghana @50 secretariat a fleet of Jaguar vehicles which were used during the [email protected] celebrations, the AU conference held in Ghana and the CAN 2008.
With the NPP losing power in the December elections, allegations have been made about some missing state-owned vehicles, forcing the transition team to conduct further investigations.
Officials of Fairlop Ghana Ltd alleged the snap checks are the machinations of the National Security Coordinator, Lt Col Gbevlo Lartey (Rtd), but he has denied knowledge of the operation.
Story by Nathan Gadugah